Brown Butter And Herb Corn Pudding
Elevate your corn pudding game with this brown butter- and herb-infused delight. A savory, creamy side dish that's perfect for any dinner table, this recipe will have your taste buds dancing with joy.
May 04, 2023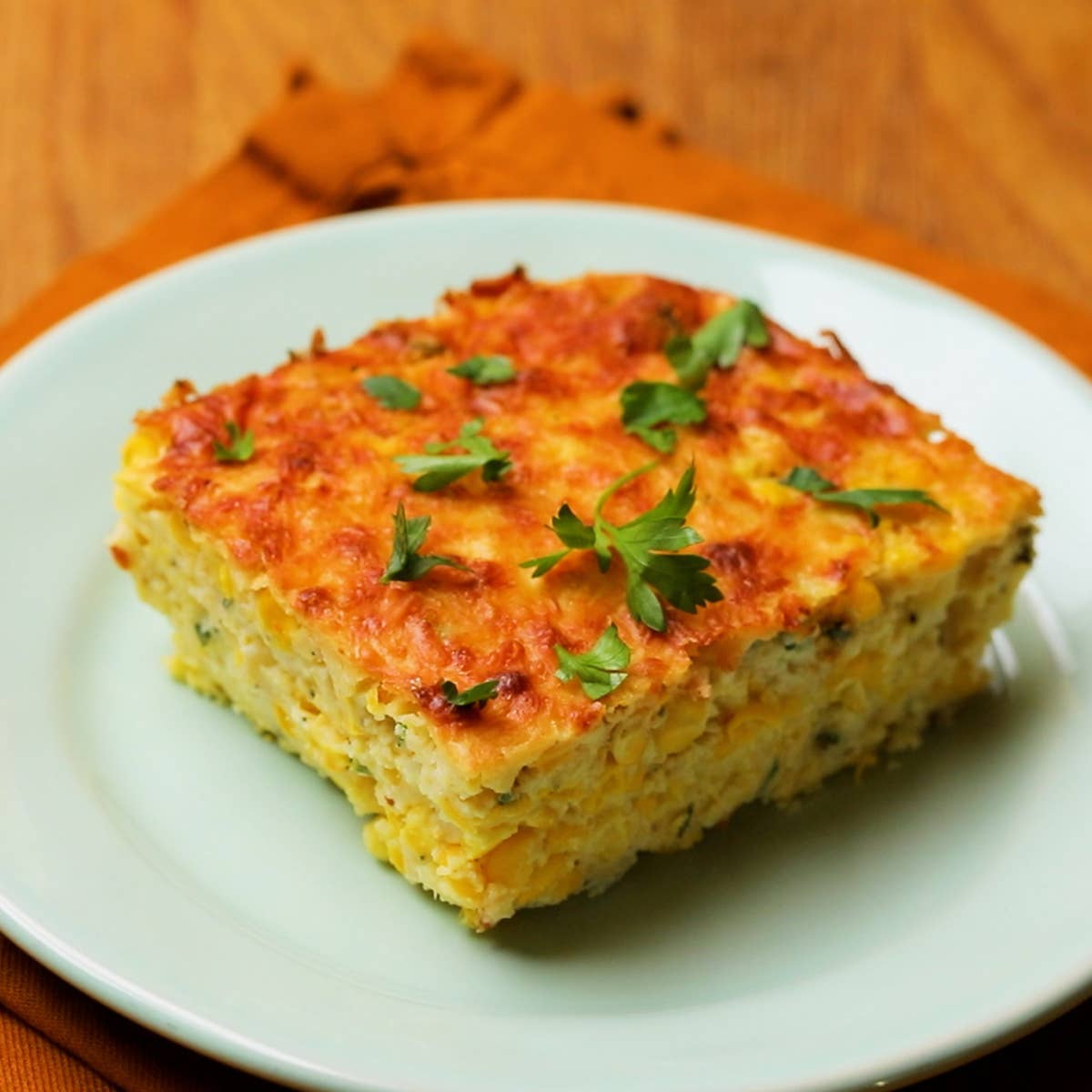 Ingredients
for 12 servings
6 tablespoons Kroger® Unsalted Butter, plus more for greasing
¾ cup shallot

(30 g)

, finely chopped
3 tablespoons fresh parsley, chopped, plus more for garnish
3 teaspoons fresh sage, finely chopped
3 teaspoons fresh thyme leaf, finely chopped
1 bag frozen corn kernels
1 cup yellow cornmeal

(150 g)

½ cup all purpose flour

(125 g)

½ teaspoon baking powder
1 tablespoon sugar
2 teaspoons kosher salt, plus more to taste
1 teaspoon freshly ground black pepper
5 large eggs
1 ½ cups milk

(360 mL)

½ cup heavy cream

(120 mL)

¾ cup sour cream

(180 g)

1 ½ cups Murray's parmigiano reggiano cheese

(185 g)

, divided
hot water, for baking
fresh parsley, for garnish
This recipe isn't available to shop.
Unfortunately, not all our recipes can be shopped through Tasty.
Preparation
Arrange an oven rack in the center position. Preheat the oven to 375°F (190°C). Grease a 9 x 13-inch glass or metal baking dish with Kroger® Unsalted Butter.
Melt the Kroger® Unsalted Butter in a large, deep skillet or pot over medium-high heat. Continue cooking for 2–4 minutes more, stirring occasionally, until the butter has turned deep golden brown in color. Turn off the heat and immediately add the shallots, parsley, sage, and thyme to the hot brown butter, stirring as they sizzle for 30 seconds.
Add the corn to the skillet and stir to coat evenly with the butter mixture. Set aside to cool while you prepare the pudding.
In a medium bowl, whisk together the cornmeal, flour, baking powder, sugar, salt, and pepper.
Add the eggs, milk, heavy cream, and sour cream to a very large bowl and whisk until smooth. Slowly add the dry ingredients to the wet ingredients, whisking constantly, until the mixture is smooth, then fold in the corn mixture and 1 cup of Murray's parmigiano reggiano until evenly distributed.
Pour the pudding into the prepared baking dish. Smooth the top, then sprinkle evenly with the remaining ½ cup Murray's parmigiano reggiano.
Place the baking dish inside another larger baking dish. Fill the larger baking dish with hot water halfway up the sides of the baking dish with the pudding.
Carefully transfer the pudding to the oven and bake for 1 hour, or until the top is golden brown and a toothpick inserted in the center comes out clean. Remove from the oven and carefully remove the baking dish with the pudding from the water bath. Let cool for 5 minutes.
Garnish the pudding with parsley, then serve.
Enjoy!