Classic, Upgraded Chicken Parmesan
While the delicious medley of rich tomatoes, melty mozzarella cheese, and crispy crunchy chicken sounds like an Italian speciality, it is actually an American dish that was invented by immigrants. Based on an Italian classic, Mezzaluna alla Parmigiana, or eggplant Parmesan, this Italian-American staple came from a lack of eggplant being grown in the United States, as well as an American preference for meat, particularly chicken. These tips, tricks, and techniques from a Michelin Star-trained chef will make this a version of chicken Parm a staple in your kitchen as well.
September 17, 2020
Total Time
45 minutes
45 min
Prep Time
10 minutes
10 min
Cook Time
20 minutes
20 min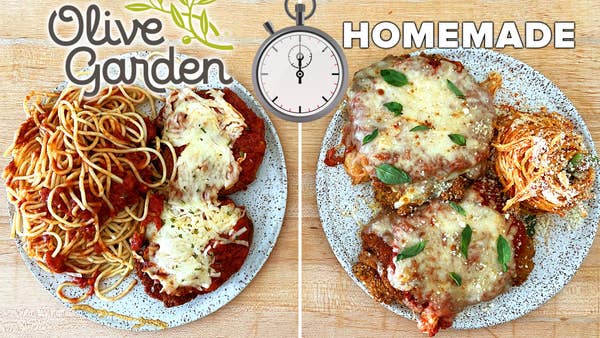 Total Time
45 minutes
45 min
Prep Time
10 minutes
10 min
Cook Time
20 minutes
20 min
Ingredients
for 1 serving
Sasto Family Red Sauce
¾ cup olive oil

(180 mL)

1 medium white onion, cut into ½-inch (2.5 cm) half moons
4 cloves garlic, crushed
¼ teaspoon dried oregano
⅛ teaspoon dried thyme
1 can crushed tomato
1 teaspoon sugar
2 teaspoons kosher salt
Chicken
2 boneless, skins on chicken thighs
2 large eggs
kosher salt, to taste
freshly ground black pepper, to taste
⅓ cup all purpose flour

(40 g)

½ cup italian bread crumbs

(55 g)

3 tablespoons panko breadcrumbs
1 ½ tablespoons coarsely grated parmesan cheese
¼ teaspoon garlic powder
¾ teaspoon dried Italian seasoning
¼ teaspoon dried parsley
1 cup olive oil

(240 mL)

1 ½ cups shredded italian cheese blend

(150 g)

2 tablespoons parmesan cheese, for garnish
For Serving
2 oz spaghetti

(60 g)

, fresh or dried
½ cup fresh basil leaves

(20 g)
Preparation
Make the red sauce: Heat the olive oil in a large pot over medium heat. Add the onion and garlic and cook until golden brown and nearly translucent, 5–7 minutes. Use a slotted spoon to remove the onion and garlic from the pot, leaving the oil behind. Set aside the fried onion and garlic for another dish.
Add the oregano and thyme and cook until fragrant, 1–2 minutes.
Add the crushed tomatoes, sugar, and salt. Bring the sauce to boil, then reduce the heat to medium and simmer for 20–30 minutes, until thickened.
Meanwhile, make the chicken: Working 1 at a time, place the chicken thighs in a zip-top bag and use a heavy skillet or meat mallet to pound into thin, even pieces.
Add the eggs to a shallow dish and beat with a pinch of salt and pepper.
Add flour to a separate shallow dish and season with salt and pepper.
In a third shallow dish, whisk together the plain and panko bread crumbs. Add the coarsely grated Parmesan cheese, garlic powder, Italian seasoning, parsley flakes, salt, and pepper and stir to incorporate.
Season the chicken with salt and pepper. Coat each piece in the flour, then the eggs, then the bread crumbs. Set the thighs on a wire rack set over a baking sheet to rest for 10 minutes before frying.
Preheat the oven to 375°F (190°C). Bring a large pot of salted water to a boil.
Heat the olive oil in a large, wide skillet over medium-high heat until it reaches 300°F (150°C).
Working in batches if needed to avoid overcrowding the pan, fry the chicken thighs in the hot oil for 3–5 minutes per side, until golden brown. Transfer to a wire rack and season with salt.
Transfer the fried chicken thighs to a clean baking sheet. Top each piece with ½ cup of the red sauce and the shredded Italian cheese blend.
Bake the chicken for 5–10 minutes, until golden brown and bubbly.
While the chicken bakes, add the spaghetti to the boiling water and cook until al dente.
Warm the remaining red sauce in the pot over medium-low heat. Transfer the spaghetti directly into the sauce and toss well, adding a bit of the pasta cooking water as needed to help the sauce cling to the noodles. Add some of fresh basil leaves to the pasta and toss to incorporate.
Add the spaghetti and chicken Parmesan to a serving plate. Top with the grated Parmesan cheese and garnish with more basil leaves.
Enjoy!