Corned Beef Hash
Corned beef hash is a diner classic for a reason! With a little extra planning, you can prepare homemade corned beef that will impress your family and friends. Serve this up for a Saturday morning feast and enjoy!
May 04, 2023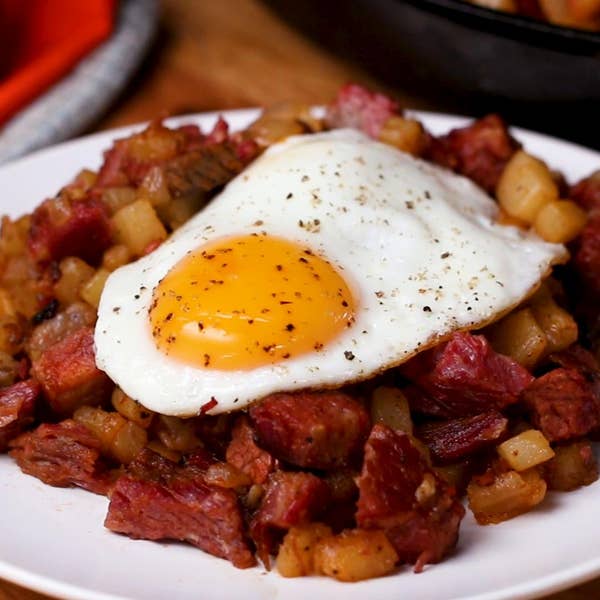 Ingredients
for 4 servings
2 qt water

(1.8 L)

2 cups kosher salt

(480 g)

1 cup brown sugar

(220 g)

2 teaspoons pink curing salt
5 cloves garlic, crushed
1 fresh ginger, 2 in (5 cm) piece, sliced
1 cinnamon stick, broken into pieces
3 bay leaves, crumbled
1 tablespoon mustard seed
1 tablespoon black peppercorn
8 whole allspice berries
12 juniper berries
8 whole cloves
2 lb ice

(910 g)

5 lb beef brisket

(2.2 kg)

, trimmed
1 large yellow onion, chopped
3 celery stalks, chopped
2 large carrots, chopped
ginger beer, 2 bottles
dark extra-stout beer, 2 bottles
1 tablespoon unsalted butter
2 lb russet potato

(910 g)

, peeled and small-diced
1 medium yellow onion, diced
kosher salt, to taste
freshly ground black pepper, to taste
1 lb corned beef

(455 g)

, diced into 1/4in (6 mm) in pieces
4 cloves garlic, minced
1 teaspoon paprika
1 tablespoon worcestershire sauce
4 large eggs, fried sunny-side up
fresh chive, for garnish, thinly sliced
Preparation
In a very large pot, combine the water, kosher salt, brown sugar, pink curing salt, garlic, ginger, cinnamon stick, bay leaves, mustard seeds, peppercorns, allspice berries, juniper berries, and cloves. Stir and bring to a boil over high heat.
Once the brine is boiling, remove from the heat and add the ice to bring the temperature below 45˚F (7˚C).
Place the brisket in a large plastic storage container with a lid. Pour the cooled brine over the meat. Cover and brine the beef in the refrigerator for 5–7 days, flipping once a day.
Once the brisket is brined, remove the beef from the liquid and transfer to a pot large enough for it to sit flat on the bottom. Add the onion, celery, carrot, ginger beer, and beer. Bring to a boil over high heat, then reduce the heat to low, cover, and gently simmer for 2½–3 hours, or until the meat is fork-tender. Remove the meat from the pot and let cool. If making corned beef and cabbage, reserve the cooking liquid. Otherwise, discard.
Thinly slice the brisket against the grain for sandwiches or corned beef and cabbage, or dice for corned beef hash.
Melt the butter in a large cast-iron skillet over medium heat. Add the potatoes and onion and season with salt and pepper. Cook for about 5 minutes, until lightly browned.
Add the corned beef, garlic, paprika, and Worcestershire sauce. Cook for another 1–2 minutes, until the beef is warmed through and slightly crisped. Remove the pan from the heat.
Serve the hash with the eggs and garnish with chives.
Enjoy!
All your favorite recipes, stored in one place. Download the Tasty app and never lose a recipe again.