Egyptian Bread Pudding
This Egyptian bread pudding, known as Om Ali, features puff pastry cookies nestled between layers of nuts and golden raisins. It's then topped with a sweet mascarpone cheese for a decadent, creamy, and crunchy dessert!
March 12, 2020
Total Time
1 hr 17 min
1 hr 17 min
Prep Time
10 minutes
10 min
Cook Time
37 minutes
37 min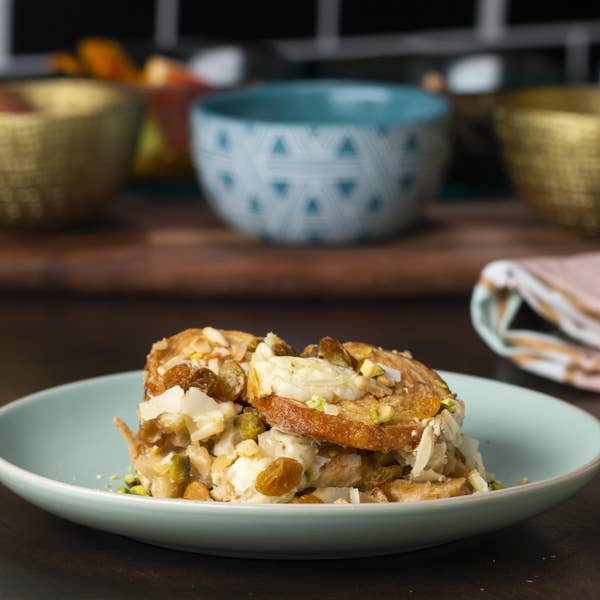 Total Time
1 hr 17 min
1 hr 17 min
Prep Time
10 minutes
10 min
Cook Time
37 minutes
37 min
Ingredients
for 12 servings
3 ¾ cups whole milk

(900 mL)

½ cup heavy cream

(120 mL)

½ cup sugar

(100 g)

½ teaspoon kosher salt
1 tablespoon whole cardamom pods
1 teaspoon whole clove
2 whole cinnamon sticks
3 orange peels, large strips
1 lb store bought mini palmiers

(455 g)

, divided
1 cup golden raisin

(150 g)

, divided
1 cup shelled pistachios

(125 g)

, toasted and chopped, divided
¾ cup hazelnuts

(95 g)

, toasted and chopped
¾ cup unsweetened flaked coconut

(55 g)

¾ cup slivered almonds

(105 g)

, divided
unsalted butter, for greasing
½ cup mascarpone
Nutrition Info
Calories

596

Fat

36g

Carbs

63g

Fiber

6g

Sugar

39g

Protein

11g
Estimated values based on one serving size.
Preparation
Preheat the oven to 350°F (180°C).
In a medium saucepan, combine the milk, cream, sugar, salt, cardamom, cloves, cinnamon sticks, and orange peels. Bring to a boil over medium heat, then reduce the heat to medium-low and simmer for 10 minutes. Remove the pot from the heat and let the spices steep for 10–15 minutes.
While the spices steep, break ¾ pound (340 G) of the palmiers in half into a large bowl.
In a medium bowl, stir together ¾ cup golden raisins (120 G), ¾ cup pistachios (95 G), the hazelnuts, coconut, and ½ cup (70 G) slivered almonds to evenly distribute.
Liberally grease a 9 x 13-inch (22 cm x 33 cm) baking dish with butter.
Spread about half of the broken palmiers in the bottom of the baking dish. Top with half the raisin and nut mixture. Repeat with the remaining broken palmiers and nut mixture.
Gently pour the infused milk through a strainer over the baking dish and let settle. Arrange the remaining ¼ pound (115 G)whole palmiers on top. Dollop the mascarpone on top, then sprinkle with the remaining ¼ cup (35 G) golden raisins, ¼ cup (35 g) pistachios, and ¼ cup (35 G) slivered almonds.
Bake the bread pudding for 25 minutes, then broil for 2–3 minutes, until the top is crisp, golden brown, and bubbling.
Let rest for 20–30 minutes before serving.
Enjoy!