92% would make again
Chocolate Caramel Oat Bars (Carmelitas)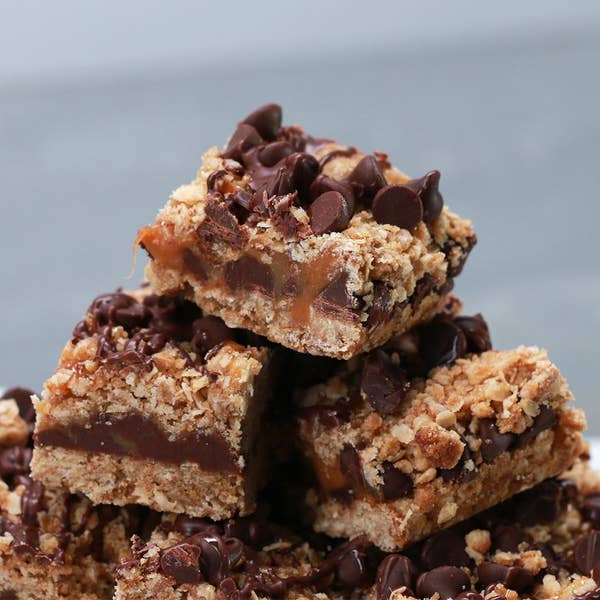 Ingredients
for 20 bars
2 cups quick oat

(200 g)

1 ¾ cups all purpose flour

(220 g)

1 ½ cups brown sugar

(330 g)

1 teaspoon baking soda
¼ teaspoon salt
1 cup melted butter

(240 mL)

2 ½ cups semi sweet chocolate chips

(435 g)

50 soft caramel candies, unwrapped
½ cup heavy cream

(120 mL)
Preparation
Preheat your oven to 350˚F (175˚C).
In a large mixing bowl, combine oats, flour, brown sugar, baking soda, salt, and melted butter. Mix until well combined and has a crumbly consistency.
Line a 9x13 (22 x 33 cm) baking pan with parchment paper and lightly coat with a nonstick spray.
Pour about ½ of the oat mixture into the pan and press with the back of a spoon or spatula until it's nice and compact. Save the other ½ of the oat mixture for later.
Pour two cups (350 grams) of chocolate chips over the oat mixture and spread them out evenly. Save the ½ cup (85 grams) for the top.
In a saucepan, melt the soft caramels, and the heavy cream until it becomes a smooth.
Pour melted caramel over the chocolate chips and oat mixture. Carefully spread the caramel until it covers the chocolate.
Pour the rest of the oat mixture over the caramel and spread out evenly.
Add the other ½ cup of chocolate chips on top.
Bake for 20-25 minutes, or until the crust has turned a golden brown. (Times and temperatures may vary from oven to oven). Allow to cool COMPLETELY before cutting into bars.
Enjoy!