Hyderabadi Chicken Dum Biryani
August 14, 2023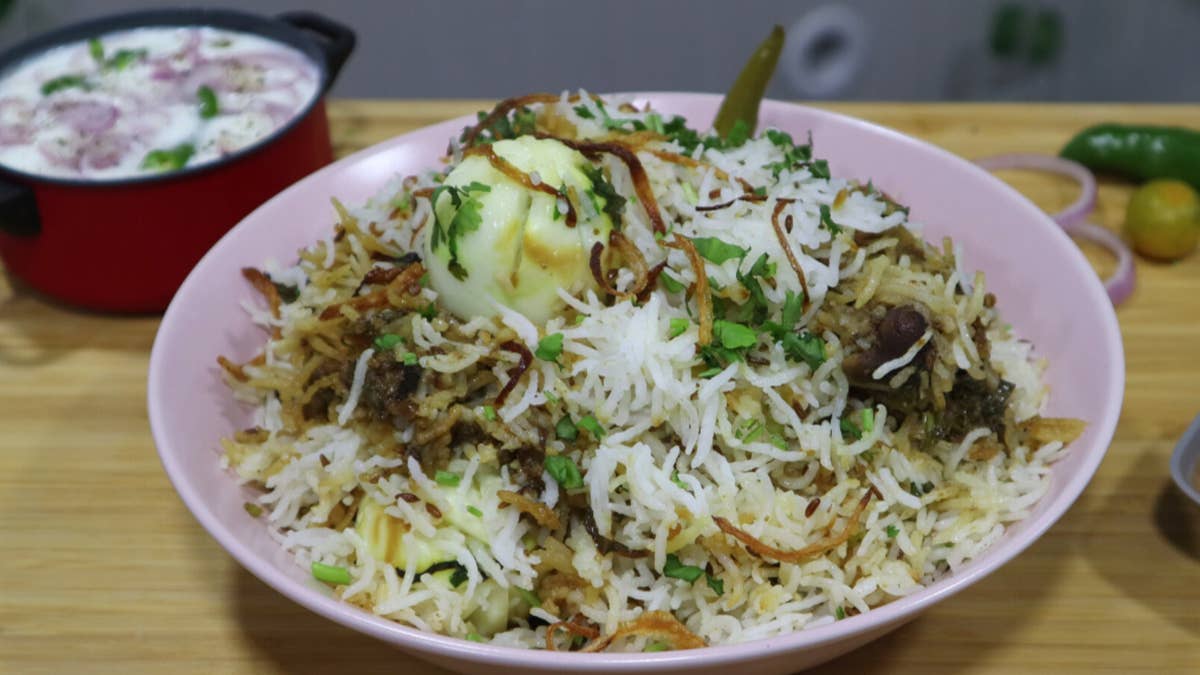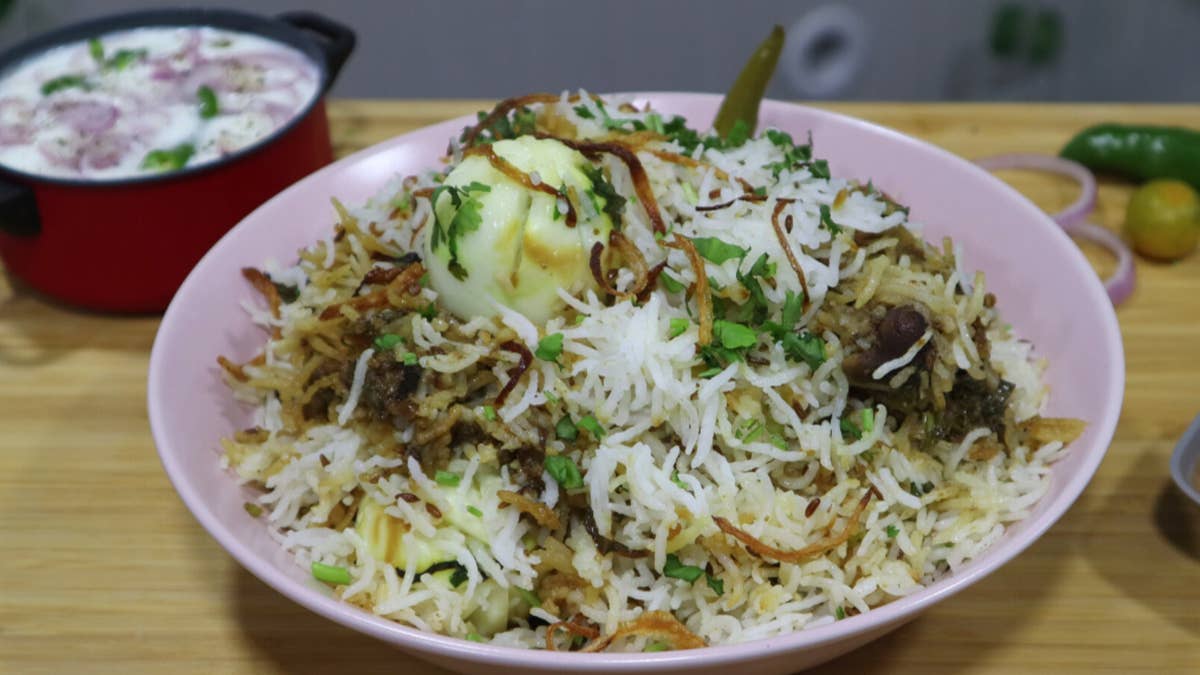 Ingredients
for 5 servings
2 lb chicken

(1 kg)

2 lb basmati rice

(1 kg)

5 onions
6 tablespoons oil
3 tablespoons ghee
For Marinating The Chicken
salt, to taste
1 lemon
1 teaspoon red chili powder
1 teaspoon coriander powder
2 teaspoons pepper powder
1 ½ tablespoons caraway seed
2 cloves
1 cardamom
1 piece cinnamon stick, 2 in (5 cm)
1 piece ginger, 1 in (2.54 cm)
4 cloves garlic
6 green chiles
12 pudina leaves
coriander leaf
1 pinch saffron
¾ cup curd

(75 g)

4 fried onions
1 tablespoon oil and ghee
For Cooking The Rice
2 lb basmati rice

(1 kg)

2 tablespoons caraway seed
1 tablespoon lemon juice
2 tablespoons vegetable oil
1 pinch saffron
salt, to taste
For Cooking On Dum
10 pudina leaves
coriander leaf
fried onion
5 hard-boiled eggs
saffron milk
½ cup rice water

(120 mL)

, hot
3 green chiles
Preparation
A. For Marinating The Chicken:
Slice the onions and fry in oil & ghee mixture until golden brown color. Reserve one of these onions for cooking on dum.
Reserve this oil that was used for frying the onions for cooking on dum (C).
For making the Hyderabad masala powder, take a mixture jar, add caraway seeds, cinnamon stick, cloves, cardamom and grind it into a fine powder.
Take the mixer jar, add ginger, garlic, pudina leaves, coriander leaves, green chilies, a Tsp. of curd, a pinch of salt and grind it into a smooth paste.
In a large bowl, add the chicken, lemon juice, salt and mix well. Then add masala powder, the grinded paste, red chilli powder, coriander powder, pepper powder, fried onion, curd, mix well.
Add 3-4 Tbsp. reserved oil (A. Step 1) and saffron. Mix and set aside for at least 1 hour.
B. For Cooking The Rice:
Wash and soak the Basmati rice for 30 minutes.
In a pot, take around 2.5 L of water to cook the rice. Place it on a high heat.
When the water is near to boil, add caraway seeds, vegetable oil and salt. Stir it well to dissolve the salt. The water must be very salty.
During boiling, add the strained basmati rice and stir it well.
Continue to boil it on high heat. Stir a few times very gently and make sure not to break the rice.
Once the rice is hal- cooked (should take about 7 minutes on high flame) strain the rice and set aside.
C. For Cooking On Dum:
Take the heavy bottom pot, place it on low flame, add half the oil & ghee (reserved) that was used for frying the onions. Then arrange the marinated chicken pieces in one layer, and pour the entire marinade as well.
Sprinkle some chopped coriander, mint leaves and fried onions above. Then spread half of the cooked rice on the arranged chicken in the pot.
Sprinkle half of the fried onions, half of the chopped mint leaves and coriander leaves.
Spread out the balanced rice as the second layer on top of the first layer of rice.
Place the boiled eggs on top of it and also some green chilies. Then sprinkle the remaining fried onions, chopped mint leaves and coriander leaves.
Now sprinkle the remaining oil & ghee on the rice in a circular motion. In the same way sprinkle a handful of saffron milk on the rice.
Now close the lid and cook for 30 minutes on low flame.
After 30 minutes, turn off the flame and let the biryani rest for 15 minutes before opening.
Serve it with tomato chutney and raita.
Don't just wing it -- plan it! Use our meal planner tool in the Tasty app. Download here.