Jerk Cauliflower
This jerk cauliflower is a great appetizer option for any crowd. Coated with flavorful jerk sauce, then pan-fried until golden brown, you'll love this new take on cauliflower whether you eat vegetarian or not.
September 09, 2019
Total Time
1 hr 5 min
1 hr 5 min
Prep Time
10 minutes
10 min
Cook Time
10 minutes
10 min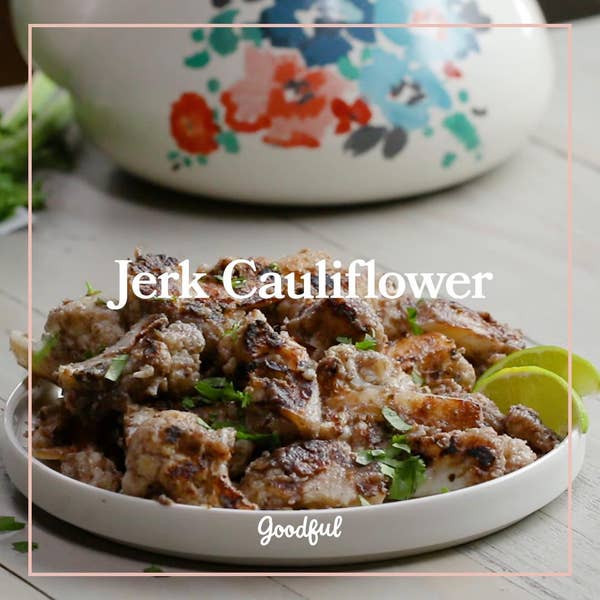 Total Time
1 hr 5 min
1 hr 5 min
Prep Time
10 minutes
10 min
Cook Time
10 minutes
10 min
Ingredients
for 4 servings
Cauliflower
3 tablespoons kosher salt
1 teaspoon garlic powder
1 teaspoon allspice
2 medium heads cauliflower, cut into large florets
1 tablespoon canola oil, plus more as needed
6 tablespoons cornstarch
¼ cup fresh cilantro

(10 g)

, chopped
1 lime, cut into wedges, for serving
Jerk Sauce
1 medium yellow onion, chopped
2 scotch bonnet peppers, seeded and chopped
4 cloves garlic, chopped
1 tablespoon fresh ginger, minced
1 tablespoon fresh thyme
2 tablespoons lime juice
½ cup white vinegar

(120 mL)

½ tablespoon ground nutmeg
1 tablespoon ground allspice
1 tablespoon light brown sugar
1 ½ teaspoons kosher salt
¼ teaspoon freshly ground black pepper
1 tablespoon olive oil
Preparation
Bring a large pot of water to a boil, then add the salt, garlic powder, allspice, and cauliflower florets. Cook for 3-4 minutes, until the cauliflower is almost cooked through (a knife should still meet a bit of resistance when trying to pierce the stem). Remove the cauliflower form the water and drain and cool slightly on a kitchen towel.
Meanwhile, make the jerk sauce: In a food processor, combine the onion, scotch bonnet peppers, garlic, ginger, thyme, lime juice, vinegar, nutmeg, allspice, sugar, salt, black pepper, and olive oil. Blend until smooth.
In a large bowl, toss the blanched cauliflower with 1½ cups (360 ml) of the jerk sauce. Let sit for 30-60 minutes. Reserve the remaining ¾ cup (180 ml) of jerk sauce.
Transfer the cauliflower to a clean large bowl, leaving any remaining marinade behind. Sprinkle the cornstarch over the cauliflower and toss until well coated.
Heat the canola oil in a large skillet over medium heat. Working in batches, sear the cauliflower for 1-2 minutes, until a brown crust forms. Flip florets over with tongs to sear on the other side for 1-2 minutes. Transfer to a plate and repeat with the remaining cauliflower, adding more oil as needed.
Add the reserved jerk sauce to pan and bring to a simmer, about 1 minute. Return the cauliflower to the pan and toss to coat well.
Transfer the cauliflower to a serving dish, or let cool to room temperature, cover, and refrigerate until ready to serve. Before serving, garnish with the cilantro and lime wedges.
Enjoy!
Cook smarter, not harder. Use our AI chef Botatouille on the Tasty app. Download now.