Malaysian Chicken Curry Laksa (Laksa Lemak)
Curry laksa, or curry mee, is one of the most popular hawker's market dishes in Malaysia, so you know it's a crowd-pleaser–it's soul-warming, slightly spicy, coconut-y, and just satisfying. A fantastic option for a weeknight meal, curry laksa comes together quite quickly, especially if you make the laksa paste in advance. Of course, you could buy store-bought laksa paste if you are pressed for time, but trust us, this version tastes better. With a bowl of laksa, a blanket, and your favorite show, you'll be set for the night.
August 17, 2023
Prep Time
30 minutes
30 min
Cook Time
30 minutes
30 min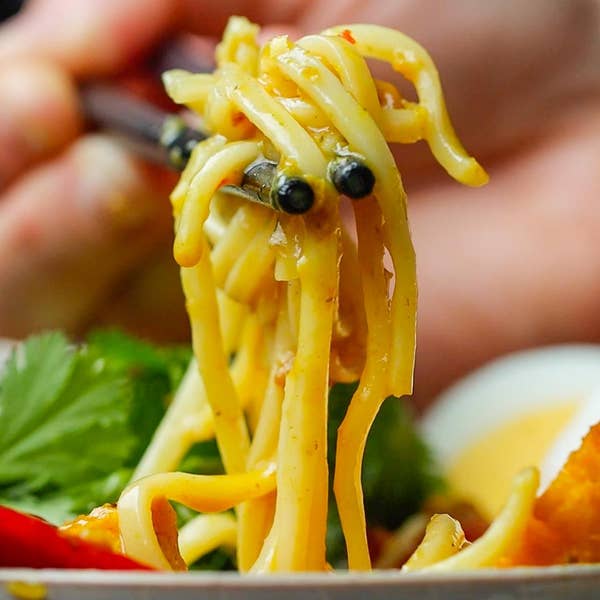 Prep Time
30 minutes
30 min
Cook Time
30 minutes
30 min
Ingredients
for 2 servings
Laksa Paste
8 dried red chilies
2 tablespoons dried shrimp
2 tablespoons raw cashews
1 tablespoon whole coriander seeds
½ teaspoon whole cumin seeds
1 tablespoon shrimp paste
1 piece fresh ginger, chopped
1 piece fresh galangal, chopped
1 piece fresh turmeric, chopped
6 cloves garlic, peeled
6 Thai red chiles, stemmed
4 shallots, chopped
2 stalks lemongrass, white parts only
1 tablespoon oriental curry powder
2 tablespoons fresh cilantro, stems an roots
¼ cup vegetable oil

(60 mL)
Curry
1 tablespoon kosher salt, plus more for boiling
7 oz egg noodle, or wide rice vermicelli
2 tablespoons vegetable oil
1 teaspoon fresh ginger, minced
1 teaspoon garlic, minced
½ teaspoon Thai red chiles, minced
1 teaspoon lemongrass, white part only, minced
2 boneless, skinless chicken thighs, sliced
3 long beans, cut into 4-6 inches (10-15 cm)
2 cups chicken stock

(480 mL)

1 can full fat coconut milk
6 fresh tofus, deep fried
6 fish cakes, deep-fried (optional)
8 slices rice cake, optional
1 ½ teaspoons palm sugar, plus more to taste
2 limes, plus more to taste
For Garnish
fresh cilantro leaf, chopped, small bunch
fresh mint leaf, chopped
2 lime wedges
2 hard boiled eggs, halved lengthwise
2 Thai red chiles, sliced
1 tablespoon sambal oelek, such as Huy Fong
Preparation
Make the laksa paste: In a food processor, combine the dried red chiles, dried shrimp, cashews, coriander seeds, and cumin seeds and grind into a powder. Add the shrimp paste, ginger, galangal, turmeric, garlic, Thai red chiles, shallots, lemongrass, curry powder, cilantro stems and roots, and vegetable oil and grind into a smooth paste, about 3 minutes. Set aside until ready to use. The laksa paste will keep in an airtight container in the refrigerator for up to one week. Pour a bit of oil over the top to cover the sauce before storing.
Make the curry: Bring a large pot of salted water to a boil. Add the noodles and cook according to the package instructions, then drain and set aside.
Heat the vegetable oil in a large, heavy-bottomed pan over medium heat. Add the ginger and garlic and sauté for 1–2 minutes, until fragrant, then add the Thai red chiles and lemongrass and sauté for 2 minutes, until the lemongrass softens a bit. Add the laksa paste and sauté for 2–3 minutes, until the oil starts to separate. Add the chicken thighs and cook for 3–4 minutes, until about halfway cooked. Add the long beans and sauté for 2 minutes, until the beans soften a bit.
Add the chicken stock and coconut milk. Bring to a boil, then remove the pot from the heat.
Add the tofu, fish cakes and rice cakes, if using, 1 tablespoon salt, the palm sugar, and lime juice and stir to incorporate. Season the curry with more salt, lime juice, or palm sugar, if desired.
Divide the cooked noodles between 2 deep bowls. Ladle the curry sauce over the noodles, then use tongs to distribute the chicken, tofu puffs, fish cakes, rice cakes, and long beans on top. Garnish with the cilantro, mint, lime wedges, hard-boiled eggs, Thai red chiles, and sambal oelek.
Enjoy!
Don't let a good recipe slip away. Download the Tasty app and save your favorites for easy access.