Matrix Mirror Glaze Cake
Experience the magic of this Matrix Mirror Glaze Cake that's sure to impress your guests. With its mesmerizing design and delectable layers of chocolate mousse, brownie, and mirror glaze, this cake is a showstopper for any occasion.
May 04, 2023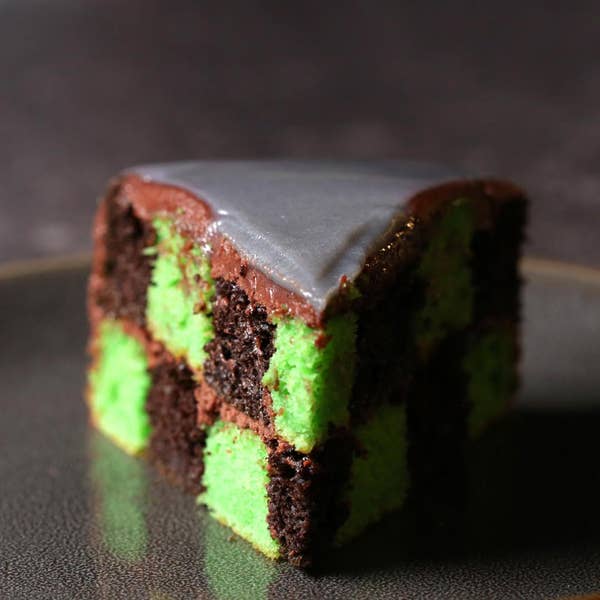 Ingredients
for 10 servings
Cake
1 chocolate cake, dyed with black food coloring, frozen
1 yellow cake, dyed with green food coloring, frozen
2 ½ cups chocolate buttercream frosting

(350 g)
Mirror Glaze
2 ¼ cups white chocolate chip

(350 g)

7 sheets silver gelatin sheets
1 cup water

(240 mL)

, divided
1 ½ cups sugar

(300 g)

⅔ cup sweetened condensed milk

(200 g)

¼ teaspoon black gel food coloring
1 container silver luster dust
This recipe isn't available to shop.
Unfortunately, not all our recipes can be shopped through Tasty.
Preparation
Prepare the cake layers: Using a 2-inch round cutter, cut out a circle from the center of the black cake. Using a 4-inch round cutter, cut out a ring from the center of the same cake. Using a 6-inch round cutter, cut out another ring from the center of the cake. Set aside and repeat with the green cake. You should have 4 pieces of black cake and 4 pieces of green cake.
Reassemble the rings of the black and green cakes to create 2 layers with alternating colors, resembling bull's-eyes.
Place an 8-inch cardboard cake round on a turntable. Spread a small dollop of chocolate frosting on the cake board and place a cake layer on top. Spread an even layer of frosting over the cake, then place the second layer on top. Spread an even layer of frosting over the top and sides of the cake, smoothing flat. Freeze the cake for at least 1 hour, up to overnight.
Make the mirror glaze: Add the white chocolate chips to a medium bowl and set aside.
Place the gelatin sheets in a small bowl with ½ cup water. Set aside to bloom for 10 minutes.
Add the remaining ½ cup water, the sugar, and sweetened condensed milk to a small saucepan and bring to a gentle simmer over medium heat. Remove the pot from the heat.
Remove the gelatin sheets from the water and add to the saucepan. Whisk until dissolved.
Strain the gelatin mixture through a fine-mesh sieve into the bowl with the white chocolate chips and whisk until the chocolate chips have melted and the mixture is smooth.
Add the black food coloring and silver luster dust, and whisk to combine. Continue whisking constantly until the glaze has cooled to 90°F (32°C), 30–40 minutes.
Place the frozen cake on a wire rack set over a baking sheet. Slowly pour the glaze over the top of the cake, allowing it to drip down the sides until the cake is fully coated. Let the cake rest until the glaze has set completely, about 20 minutes.
Transfer the cake to a serving plate, then slice and serve.
Enjoy!