Melomakarona
Melomakarona are traditional Greek cookies that are typically made during the holiday season to be shared with family and friends. Soaking the melomakarona overnight in syrup is a crucial step in ensuring they have the perfect balance of sweetness and aromatic flavor. They're a perfectly spiced, sweet treat to enjoy this holiday season!
August 14, 2023
Total Time
13 hr 55 min
13 hr 55 min
Prep Time
10 minutes
10 min
Cook Time
1 hr 45 min
1 hr 45 min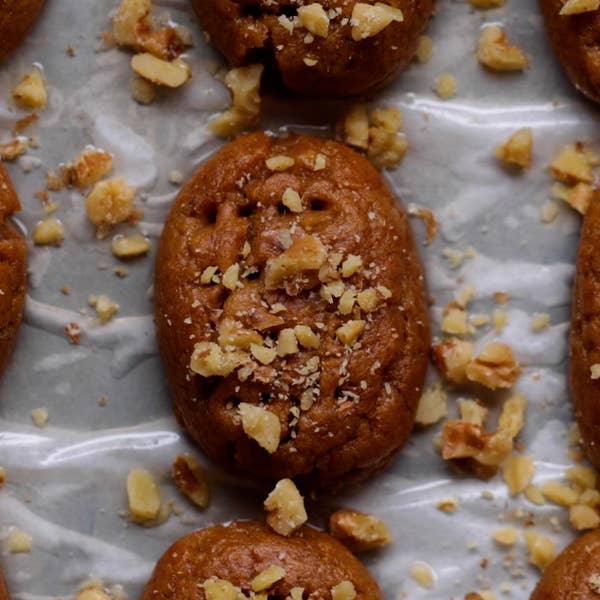 Total Time
13 hr 55 min
13 hr 55 min
Prep Time
10 minutes
10 min
Cook Time
1 hr 45 min
1 hr 45 min
Ingredients
for 24 melomakaronas
Syrup
1 ½ cups granulated sugar

(300 g)

kosher salt
1 tablespoon lemon juice
1 tablespoon honey
4 whole cloves
1 cinnamon stick
1 ½ cups cold water

(360 mL)
Melomakarona
2 ¾ cups all purpose flour

(345 g)

¾ teaspoon baking powder
⅓ cup granulated sugar

(65 g)

⅓ cup orange juice

(80 mL)

½ tablespoon ground cinnamon
½ teaspoon vanilla extract
¾ teaspoon baking soda
⅓ cup olive oil

(80 mL)

⅓ cup canola oil

(80 mL)

¼ cup cold water

(60 mL)

1 ½ tablespoons honey
½ cup walnuts

(65 g)

, chopped
Nutrition Info
Calories

144

Fat

7g

Carbs

18g

Fiber

0g

Sugar

8g

Protein

1g
Estimated values based on one serving size.
Preparation
Make the syrup: Add the sugar, salt, lemon juice, honey, cloves, cinnamon stick, and cold water to a small pot. Whisk to combine, then bring to a boil over medium-high heat. Once boiling, reduce the heat to low and simmer until the syrup thickens slightly, 25–30 minutes. Remove the pot from the heat and let the syrup cool completely.
Make the melomakarona: Preheat the oven to 350°F (180°C). Line a 12 x 17-inch baking sheet with parchment paper.
In a medium bowl, whisk together the flour and baking powder.
In a large bowl, whisk together the sugar, orange juice, cinnamon, and vanilla. Add the baking soda and whisk for about 20 seconds, until the batter lightens in color and thickens slightly. Add the olive oil, canola oil, cold water, and honey and whisk until thoroughly combined.
Using a rubber spatula, fold the dry ingredients into the wet ingredients until just incorporated, making sure not to overmix the dough.
Using a rounded tablespoon measure, divide the dough into 24 equal portions. Roll each piece of dough into a smooth ball, then create an oval shape by gently squeezing two opposite sides in and rounding out the edges. Place the melomakarona on the prepared baking sheet and press down the tops to flatten. Using a fork, poke 4 sets of holes into each melomakarona, pushing only halfway through the dough.
Bake the melomakarona for 20–25 minutes, until firm to the touch. Remove from the oven and let cool for 5 minutes.
Place 4 melomakarona at a time in the cooled syrup. Soak for 15 seconds on each side, then return to the baking sheet. Repeat with the remaining melomakarona. Using a tablespoon, pour the remaining syrup over each melomakarona. It will look like there is too much syrup, but the melomakarona will continue to absorb it as they rest. Cover the baking sheet with aluminum foil and let sit at room temperature overnight.
Uncover the pan and sprinkle the chopped walnuts over the top of the melomakarona. Place each melomakarona in a paper cupcake liner, if desired, then arrange on a platter.
Enjoy!
Don't just wing it -- plan it! Use our meal planner tool in the Tasty app. Download here.