64% would make again
Plant-Based Lemon Meringue Pie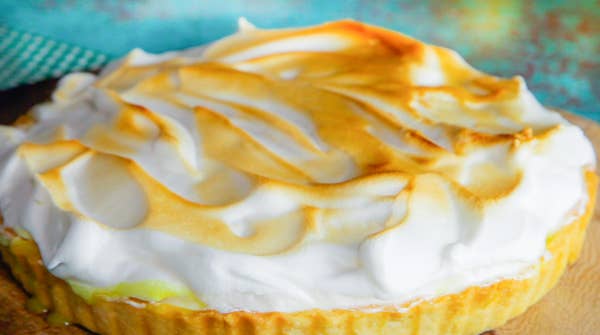 Ingredients
for 8 servings
For the pastry:
2 ½ cups plain flour

(300 g)

¼ cup sugar

(30 g)

1 teaspoon salt
butter, frozen and grated
¼ cup ice cold water

(75 mL)
For the lemon curd:
1 ½ cups sugar

(300 g)

1 cup cornflour

(100 g)

1 ¼ cups oat milk

(300 mL)

5 lemons, juiced
3 lemons, zested
½ teaspoon turmeric powder
For the meringue:
1 can chickpea water
1 teaspoon vanilla
1 ½ cups caster sugar

(175 g)

1 teaspoon lemon juice
Nutrition Info
Estimated values based on one serving size.
Preparation
Preheat your oven to 180C. First make the pastry. Add flour to a large mixing bowl, add the frozen grated sugar and rub together until it resembles breadcrumbs. Add sugar, salt and water and rub together a little more, but do not overmix!
Tip out onto a floured surface and bring into a ball
Wrap in cling film and leave to rest for 10 mins.
Whilst your dough rests, make the curd. Combine the juice of 5 lemons with the zest, sugar, cornflour, turmeric & oat milk in a saucepan and stir over a low medium heat until it thickens. Leave to cool.
Roll out your chilled pastry so that it is ½ cm thick and line the pie tin, trim the excess pastry. You may roll a little of the excess into a ball and use this to push the pastry into the corners of the tin. Prick the bottom with a fork, line with parchment and baking beans and bake for 15-20 minutes.
To make the meringue, whisk the chickpea water in a stand mixer on high speed for 5 minutes until it quadruples in size.
Add the sugar, vanilla and lemon juice and mix again on high speed for 5 minutes until glossy and the sugar has dissolved.
When the pastry is cool, fill ¾ with the lemon curd and cool for 30 mins, then dot the meringue on the curd and smooth a little with a spatula. Grooves are good because this will catch under the grill and leave lovely brown caramelised marks.
Grill for 5 minutes (keep an eye on it though to ensure it doesn't burn!
Devour!