Roast Prime Rib With Garlic Herb Butter
August 17, 2023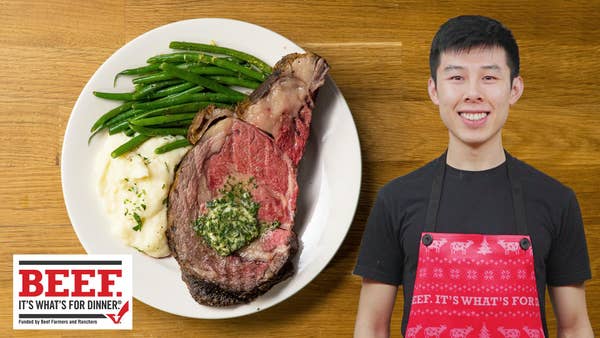 Ingredients
for 6 servings
6 lb bone-in prime rib

(2.7 kg)

3 tablespoons kosher salt
3 tablespoons freshly ground black pepper
Garlic Herb Butter
½ cup unsalted butter, 1 stick, softened
1 teaspoon lemon zest
½ teaspoon kosher salt
2 small garlic cloves, minced
3 tablespoons fresh parsley, chopped
1 ½ tablespoons fresh rosemary
¼ teaspoon freshly ground black pepper
This recipe isn't available to shop.
Unfortunately, not all our recipes can be shopped through Tasty.
Preparation
Preheat the oven to 225°F (105°C). Set a wire rack over a rimmed baking sheet.
Season the prime rib all over with the salt and pepper.
Make the garlic herb butter: In a small bowl, mix together the butter, lemon zest, salt, garlic, parsley, rosemary, and pepper until well combined.
Transfer butter to a sheet of plastic wrap and roll into a log. Twist the ends to seal well. Refrigerate at least 1 hour, or until ready to serve.
Set the prime rib on the prepared baking sheet and place in the oven for 3½–4 hours, until the internal temperature reaches at least 130°F (55°C), or 15° less than your desired final temperature — no less than 145°F. Remove from the oven and let rest for 30 minutes.
Increase the oven temperature to 500°F (260°C).
Return the prime rib to the oven for 5–10 minutes, or until a brown, crispy crust forms on the surface. Remove from the oven.
To carve, use a boning knife to cut along the inside of the rib bones, separating them from the roast, then separate the ribs. Slice against the grain of the rest of the roast into ½-inch slices.
Slice the butter into ¼-inch thick rounds.
Serve the prime rib immediately with the butter rounds on top.
Enjoy!