Salt-Crusted Beef Tenderloin
Impress your guests with this show-stopping salt-crusted beef tenderloin that is juicy, tender, and full of flavor.
May 14, 2023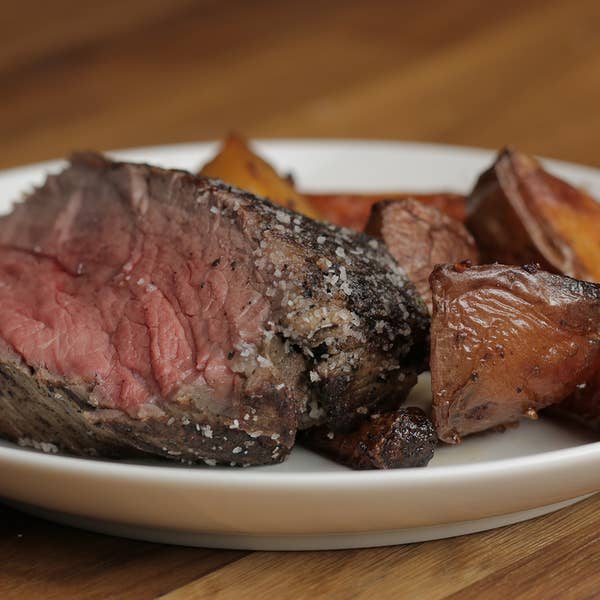 Ingredients
for 6 servings
2 lb beef tenderloin

(910 g)

pepper, to taste
3 lb kosher salt

(360 g)

2 tablespoons fresh rosemary
1 cup water

(240 mL)
Preparation
Liberally pepper the beef tenderloin on all sides.
Brown all sides of the beef tenderloin, set aside so its comes to room temperature.
In a large mixing bowl, combine the salt, rosemary and water. You want the consistency of wet, packable sand.
Spread a thin layer of the salt on your baking sheet.
Place the beef tenderloin on top and cover the with remaining salt. Make sure the entire beef tenderloin is covered in the salt mix.
Bake at 250°F (120°C) for 45-60 minutes or until the internal temperature is about 120°F (48°C) for medium rare.
Remove and let it rest in the salt crust for 15 minutes.
Using the back of the spoon, crack the salt crust and remove. Brush away any excess salt and remove the beef tenderloin.
Slice and serve with roasted vegetables.
Enjoy!
Cook smarter, not harder. Use our AI chef Botatouille on the Tasty app. Download now.