Spiced Pumpkin Pecan Loaf
Make your own delicious loaf of bread at home, whether you're a fan of sweet or savory! Baking bread in a Dutch oven is convenient and fairly hands off. Enjoy this spiced pumpkin pecan loaf for breakfast with some nut butter or chocolate-hazelnut spread and fruit!
August 14, 2023
Total Time
3 hr 40 min
3 hr 40 min
Prep Time
10 minutes
10 min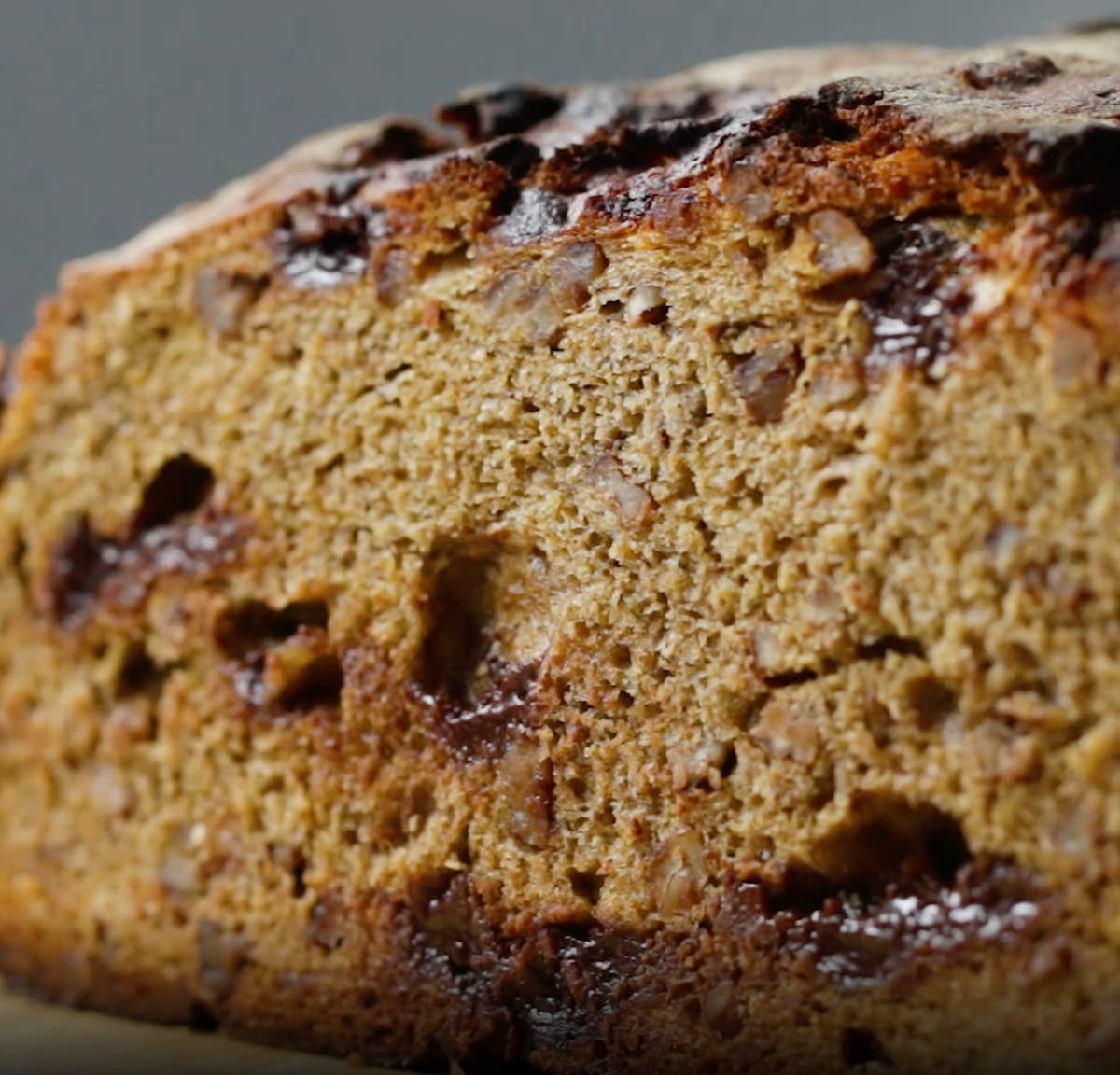 Total Time
3 hr 40 min
3 hr 40 min
Prep Time
10 minutes
10 min
Ingredients
for 1 loaf
2 ¼ cups bread flour

(280 g)

, plus more for dusting
1 ¼ cups whole wheat flour

(155 g)

1 ¼ cups toasted pecans

(155 g)

1 cup semi-sweet chocolate chips

(175 g)

2 teaspoons ground cinnamon
1 teaspoon ground ginger
½ teaspoon freshly grated nutmeg
¼ teaspoon ground cloves
1 teaspoon kosher salt
1 cup warm water

(240 mL)

2 ¼ teaspoons instant yeast
1 cup unsweetened pumpkin puree

(225 g)

¼ cup maple syrup

(85 g)
Preparation
In a large bowl, combine the bread flour, whole wheat flour, pecans, chocolate chips, cinnamon, ginger, nutmeg, cloves, and salt. Stir well with a rubber spatula.
In a separate large bowl, whisk together the warm water, yeast, pumpkin purée, and maple syrup.
Add the dry ingredients to the wet ingredients and use a rubber spatula to stir until the dough just comes together. With your hands, knead the dough in the bowl until there are no dry, floury spots remaining. Cover the dough with a kitchen towel and let rest in a warm place for 60 minutes, or until almost doubled in size.
Using the spatula, fold the dough toward the center of the bowl 8 times, rotating the bowl each time. Cover with the towel and let rest for 30 minutes more.
Place a Dutch oven with a lid in the oven, and preheat the oven to 450°F (230°C) for 30 minutes.
Lightly dust a clean surface and your hands with flour. Carefully turn the dough out of the bowl and onto the floured surface. Fold the edges of the dough towards the center 8 times, then flip the dough over and transfer to a piece of parchment paper.
Carefully remove the Dutch oven from the oven (it will be very hot) and use the parchment to lift the bread into the pot. Cover with the lid.
Bake the bread for 35 minutes. Remove the lid and reduce the oven temperature to 425°F (220°C). Bake for 15 more minutes, until the bread is golden brown.
Carefully slide the bread out of the pot and onto a wire rack. Remove the parchment paper and let the bread cool for at least 1 hour before slicing.
Slice the bread and serve as desired.
Enjoy!
Hate losing that perfect recipe? Save and organize recipes easily on the Tasty app. Download now.