90% would make again
Steak-Stuffed Garlic Bread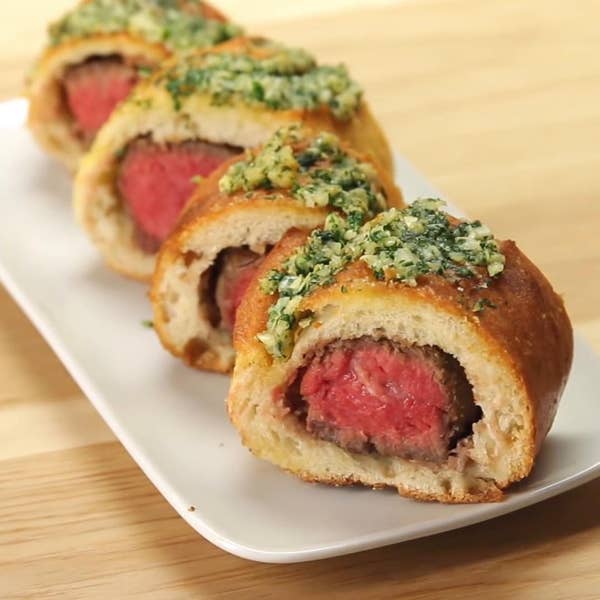 Ingredients
for 4 servings
3 tablespoons canola oil
1 lb ribeye steak

(455 g)

¾ tablespoon kosher salt
½ tablespoon freshly ground black pepper
2 tablespoons unsalted butter
2 sprigs fresh rosemary
2 cloves garlic, smashed
1 baguette
4 tablespoons butter, melted
2 tablespoons garlic, chopped
2 tablespoons grated parmesan cheese
2 tablespoons fresh parsley, finely chopped
Nutrition Info
Estimated values based on one serving size.
Preparation
Slice the steak in half lengthwise then season all of the sides with the salt and pepper.
Heat oil in a pan over extremely high heat until oil is slightly smoking.
Sear the steak for about one minute, then flip.
Add the butter, rosemary, and garlic, swirling the pan so that the butter melts. Tilt the pan towards you, and using a large spoon, constantly scoop the melted butter on top of the steak, basting it for about one minute.
NOTE: This helps cook the top of the steak faster and provide more flavor.
Sear the sides of the steak for about 30 seconds, then remove it from heat completely. Repeat with the other strip of steak.
Cut the ends off the baguette and remove the insides using a knife.
Preheat oven to 350°F (180°C).
Once the steaks are completely cool, stuff the hollowed out baguettes with the steak. Place the baguettes on a baking sheet.
In a medium bowl, combine the melted butter, garlic, Parmesan, and parsley, stirring until evenly combined. Spread the garlic butter evenly on top of the steak-stuffed baguettes.
Bake for 15–20 minutes, depending on how you like your steak.
Slice into 1 in (3 cm) bites.
Enjoy!