Strawberry Cheesecake With Coconut Cookie Crust
Our producer, Katie Aubin, was challenged to make a five-star dish using ingredients only found at the dollar store. Watch how she transforms different components into a delicious, beautiful and mesmerizing dessert.
July 05, 2020
Prep Time
30 minutes
30 min
Cook Time
3 hr 30 min
3 hr 30 min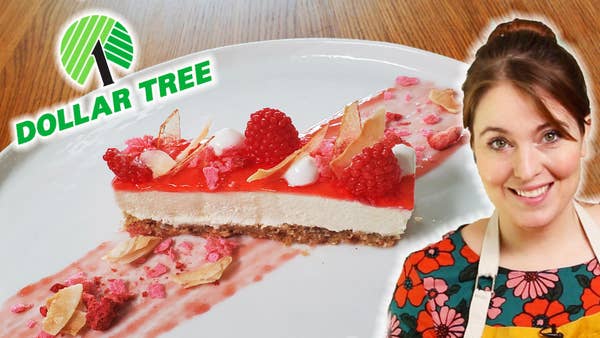 Prep Time
30 minutes
30 min
Cook Time
3 hr 30 min
3 hr 30 min
Ingredients
for 8 servings
Cheesecake
16 coconut biscuit cookies
3 tablespoons unsalted butter, melted
1 box cheesecake mix, prepared according to package instructgions
1 box strawberry jello, prepared according to package instructions
Italian Meringue
¼ cup sugar

(50 g)

2 tablespoons water
1 large egg white, room temperature
Glass Candy
½ cup sugar

(100 g)

¼ cup water

(60 mL)
Strawberry Coulis
2 tablespoons strawberry jam
1 teaspoon water
Garnishes
strawberry wafer cooky, finely crushed
freeze-dried strawberry, finely crushed
raspberry gummy candy, cut in half
toasted coconut flake, sweetened
Preparation
Make the cheesecake: Line an 8-inch (20 cm) square baking dish with parchment paper and grease with nonstick spray.
Add the cookies to the bowl of a food processor. Pulse until broken down into fine crumbs. Transfer to a medium bowl and add the melted butter. Stir until well combined and the consistency resembles wet sand.
Transfer the cookie crumbs to the prepared baking dish and pat down in an even layer. Set aside.
Prepare the cheesecake mix according to the package instructions, then spread the filling over the crust in an even layer. Chill in the refrigerator for at least 2 hours.
Prepare the strawberry jello mix according to the package instructions. Gently ladle half of the jello mixture on top of chilled cheesecake. Return to the fridge and let set until firm, about 90 minutes. Save the remaining jello for another use, if desired.
Make the meringue: In a small saucepan, combine the sugar and water. Cook over medium heat until the mixture reaches 240°F (115°C).
Meanwhile, add the egg white to a medium bowl and whip with an electric hand mixer until soft peaks form, about 2 minutes. With the mixer on medium speed, carefully and slowly drizzle in the hot sugar syrup. Increase the mixer speed to high and whip until stiff peaks form. Let cool slightly, then transfer to a piping bag fitted with a piping tip. Set aside until ready to use.
Make the candy shards: Line a baking sheet with parchment paper. Add the sugar and water to a small saucepan. Heat over medium-high heat until the mixture reaches 295–300°F (145-150°C). Pour the mixture onto the prepared baking sheet and carefully tilt the pan spread in a thin layer. Don't touch the candy, it will be hot! Let sit until the candy cools and hardens, about 2 minutes. Use a meat mallet or spoon to crack the candy into small pieces.
Make the coulis: In a small bowl, stir together the jam and water. Strain through a fine-mesh sieve to remove any clumps.
Assemble the cheesecake: Use a pastry brush to lightly brush coulis across each plate. Set a thin slice of cheesecake in the center. Top with crushed wafer cookies, crushed freeze-dried strawberries, raspberry candy, candy shards, small mounds of meringue, and toasted coconut flakes. Sprinkle more garnishes on the plate.
Serve immediately.
Enjoy!
All your favorite recipes, stored in one place. Download the Tasty app and never lose a recipe again.