Cookies And Cream Churro Ice Cream Bowls
It's a cookies and cream overload! Freeze and fry edible chocolate cookie churro bowls, coat in sugar, and serve with a scoop of cookies and cream ice cream. Worried about wasting the cookie cream filling? Turn it into an extra sweet whipped cream for a fun topping!
August 09, 2020
Total Time
3 hr 20 min
3 hr 20 min
Prep Time
10 minutes
10 min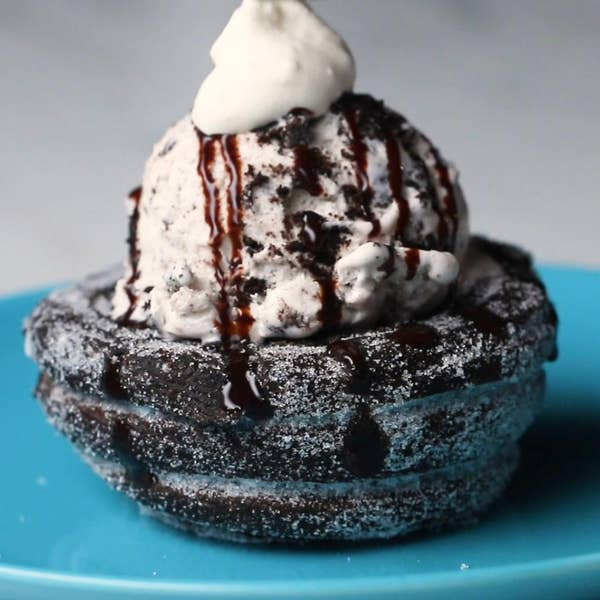 Total Time
3 hr 20 min
3 hr 20 min
Prep Time
10 minutes
10 min
Ingredients
for 6 servings
48 chocolate sandwich cookies
1 cup all purpose flour

(125 g)

2 cups water

(480 mL)

½ stick unsalted butter
1 ⅓ cups granulated sugar

(265 g)

, divided
2 large eggs
nonstick cooking spray
2 qt canola oil

(1.8 L)

, for frying
2 cups heavy cream

(480 mL)

cookies and cream ice cream, for serving
chocolate sauce, for serving
Preparation
Separate the chocolate sandwich cookies from the cream filling into 2 separate medium bowls. Set the cream filling aside.
Add the cookies and flour to a food processor and pulse until broken down into fine crumbs.
In a large pot over medium heat, combine the water, butter, and ⅓ cup granulated sugar. Bring to a boil.
Remove the pot from the heat and stir in the cookie crumb mixture with a wooden spoon until the dough comes together in a ball.
Add the eggs, 1 at a time, and stir until completely incorporated and the batter is smooth. Let cool slightly, then transfer to a piping bag or zip-top bag fitted with a wide star tip.
Invert a 12-cup muffin tin and grease generously with nonstick cooking spray.
Pipe the churro dough in spirals around the inverted cups to form 6 bowls, spacing evenly. Smooth the tops with a spoon or an offset spatula. Transfer the pan to the freezer and freeze until solid, at least 3 hours, or overnight.
Heat the canola oil in a deep pot over medium heat until it reaches 350°F (180°C).
Remove the muffin tin from the freezer and flex it to release the churro bowls. You may need to wiggle a butter knife under the bottom edges to loosen the bowls first.
Add the remaining cup of sugar to a shallow bowl.
Working with 1 or 2 bowls at a time (return any remaining bowls to the freezer until ready to fry), fry the churro bowls in the hot oil, turning occasionally for even frying, until fully cooked through, about 4 minutes. Using a spider or slotted spoon, remove the churro bowls from the oil and transfer to a paper towel-lined plate. Dab off any excess oil, then roll in the sugar.
Make the whipped cream: To the bowl with the reserved cream filling, add a splash of the heavy cream and, with an electric hand mixer on medium-high speed, beat until smooth. Gradually add the remaining cream and beat until stiff peaks form, 3–4 minutes.
Fill the churro bowls with cookies and cream ice cream, drizzle with chocolate sauce, and finish with a dollop of the whipped cream. Serve immediately.
Enjoy!
Hate losing that perfect recipe? Save and organize recipes easily on the Tasty app. Download now.