Cookies And Cream Funnel Cake Sandwiches
June 10, 2019
Prep Time
15 minutes
15 min
Cook Time
45 minutes
45 min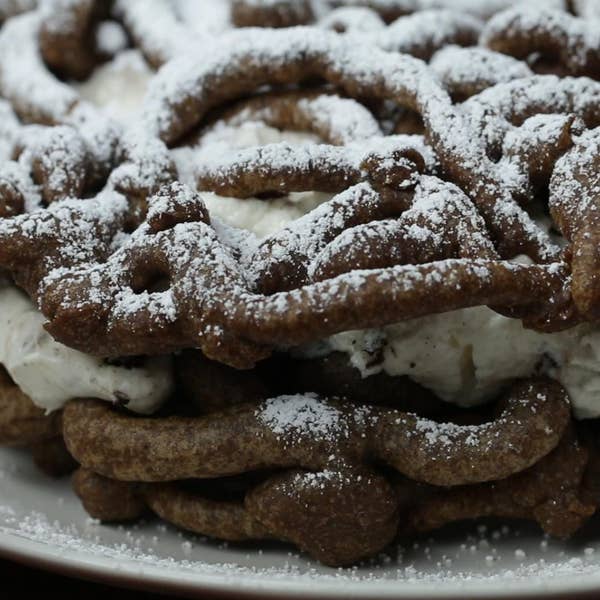 Prep Time
15 minutes
15 min
Cook Time
45 minutes
45 min
Ingredients
for 10 sandwiches
30 chocolate sandwich cookies, divided, doublestuffed
2 cups heavy cream

(480 mL)

, cold
8 oz cream cheese

(225 g)

, room temperature
2 ½ cups all purpose flour

(310 g)

1 tablespoon baking powder
¼ teaspoon kosher salt
2 large eggs
¼ cup granulated sugar

(60 g)

, 1 teaspoon of vanilla extract
1 ½ cups whole milk

(360 mL)

1 cup water

(240 mL)

¼ teaspoon kosher salt
canola oil, for frying
powdered sugar, for dusting
Nutrition Info
Calories

461

Fat

34g

Carbs

35g

Fiber

1g

Sugar

11g

Protein

8g
Estimated values based on one serving size.
Preparation
Take 20 cookies and separate the cookies from the cream filling. Reserve the filling in a medium bowl and place the cookies in a food processor. Process the cookies until broken down to a fine dust, about 1 minute. Set aside.
Chop the remaining 10 cookies into small pieces.
Add the heavy cream to a large bowl. Using an electric hand mixer, beat the heavy cream until stiff peaks form, about 2 minutes.
To the bowl with the reserved cream filling, add the cream cheese. Using the hand mixer, beat together until smooth and creamy. Gently fold the whipped cream into the cream cheese mixture, then fold in the chopped cookies. Refrigerate until ready to assemble the sandwiches.
In a medium bowl, mix together the flour, cookie crumbs, baking powder, and salt.
In a large bowl, whisk together the eggs, sugar, vanilla, milk, and water.
Sift the dry ingredients into the wet ingredients, about ⅓ at a time. Use a rubber spatula to stir the batter together. Transfer the batter to a 32-ounce (905 G) squeeze bottle with a wide tip (trimmed if necessary).
Fill a small pot, no more than 6 inches (15 cm) wide, ⅔ of the way with canola oil and heat over medium heat until the temperature reaches 350˚F (180˚C).
Starting from the outside and working inward, squeeze a 4-inch (10 cm) wide circle of batter in the center of the hot oil and in a circular fashion, fill in the center of the circle to create the funnel cake. Fry for 90 seconds on each side, until golden brown. Transfer to a paper towel-lined baking sheet to drain. Repeat with remaining batter.
Scoop 2 ounces of filling onto a funnel cake and top with another cake. Repeat with the remaining cakes and filling. Dust with powdered sugar, then serve immediately.
Enjoy!