Strawberry Shortcake Ice Cream Cake
Everyone loves ice cream cakes, especially ones that bring the nostalgia. This cake is not only easy to make, it's easy to swap in your favorite flavors–we went with strawberry shortcake for classic summer vibes.
August 14, 2023
Total Time
Prep Time
20 minutes
20 min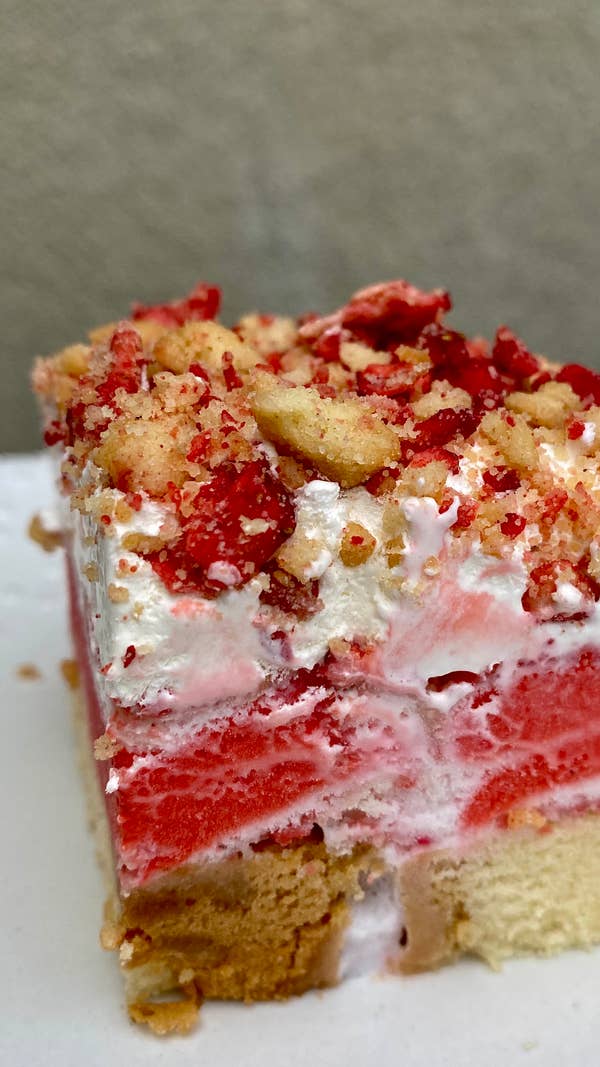 Total Time
Prep Time
20 minutes
20 min
Ingredients
for 10 Servings
1 16—ounce frozen pound cake, thawed
8 strawberry shortcake ice cream bars, softened
3 tablespoons melted unsalted butter
1/2 cup crumbled freeze-dried strawberry
1/2 cup crumbled shortbread cooky
1 1/2 cups frozen whipped topping, thawed
Preparation
Line a 9-inch square glass baking dish with plastic wrap.
Trim the ends off of the pound cake, then slice crosswise into 8 1-inch-thick slices.
Arrange the pound cake slices tightly in the bottom of the prepared baking dish.
One at a time, place a strawberry shortcake ice cream bar on top of the pound cake layer, then remove the stick. Freeze for about 3 hours.
In a medium bowl, toss together the melted butter, freeze-dried strawberries, and shortbread cookies. It should resemble the cookie coating from the outside of the strawberry shortcake bars.
Remove the baking dish from the freezer. Spread the whipped topping over the strawberry shortcake bar layer, then sprinkle generously with the cookie crumble. (Alternatively, to cover the entire cake, lift the plastic wrap to remove the cake from the baking dish and set on a small baking sheet. Cover the top and sides with double the amount of whipped topping and cookie crumble.) Freeze overnight.
When ready to serve, use the plastic wrap to remove the ice cream cake from the pan. Place on a cutting board and remove the plastic. Cut into 8–10 pieces and serve immediately.
Enjoy!
Busy? Plan your meals for the week using our exclusive meal planner tool in the Tasty app. Download now and get organized.