96% would make again
Summertime Lentil Bolognese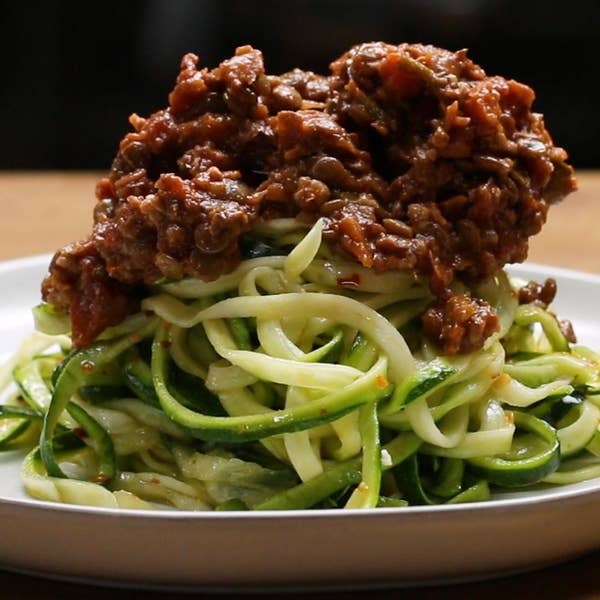 Ingredients
for 8 servings
2 medium carrots, roughly chopped
1 large white onion, roughly chopped
3 celeries, roughly chopped
3 cloves garlic
1 cup raw walnut

(100 g)

2 tablespoons olive oil
1 teaspoon dried basil
2 teaspoons dried oregano
1 teaspoon dried parsley
kosher salt, to taste
2 tablespoons tomato paste
2 ¾ cups low sodium vegetable broth

(660 mL)

1 cup green lentil

(200 g)

1 can diced tomato
½ cup red wine

(120 mL)

noodle, for serving
6 medium zucchinis
2 tablespoons olive oil, plus more as needed
kosher salt, to taste
½ teaspoon red pepper flakes
3 cloves garlic, minced
6 medium zucchinis
2 tablespoons olive oil, plus more as needed
kosher salt, to taste
½ teaspoon red pepper flakes
3 cloves garlic, minced
Nutrition Info
Estimated values based on one serving size.
Preparation
In a food processor, combine the carrots, onion, celery, and garlic. Pulse until finely chopped, but not mushy. Transfer the vegetables to a bowl.
Add the walnuts to the food processor and pulse until they reach the consistency of ground meat.
Heat the olive oil in a large pot over medium-high heat. Add the vegetable mixture, basil, oregano, parsley, and salt. Cook for 25 minutes, stirring frequently, until caramelized and any excess moisture has evaporated. Add the tomato paste, stir to combine, and cook for 5 minutes.
Add the vegetable stock, lentils, ground walnuts, and tomatoes and season with salt. Reduce the heat to medium, cover, and simmer for 35 minutes, stirring occasionally, until the lentils are cooked through and walnuts have softened. Remove the lid and cook off any remaining liquid, stirring frequently, about 5 minutes.
Add the wine, stir, and reduce until there is no liquid at the bottom of the pot, about 10 minutes. Season with more salt to taste.
Trim the ends of the zucchini, then cut into noodles using a spiralizer or julienne peeler.
Add 2 tablespoons of olive oil, a pinch of salt, the red pepper flakes, and garlic to a large pan. Turn the heat to medium and cook for 2-3 minutes, until the garlic is fragrant.
Work in batches, add about 2-3 cups of zucchini noodles at a time to the pan. Season lightly with salt and cook for 45-60 seconds, tossing continuously with tongs, until warmed through. 9. Add more olive oil, 1 tablespoon at a time, if the pan looks dry.
Serve the zucchini noodles with the Bolognese.
Enjoy!