15-Minute Donuts
Whip up a batch of these scrumptious 15-Minute Donuts and satisfy your sweet tooth in no time! With a fluffy, golden exterior and a dusting of powdered sugar, these homemade treats are perfect for a quick indulgence.
May 04, 2023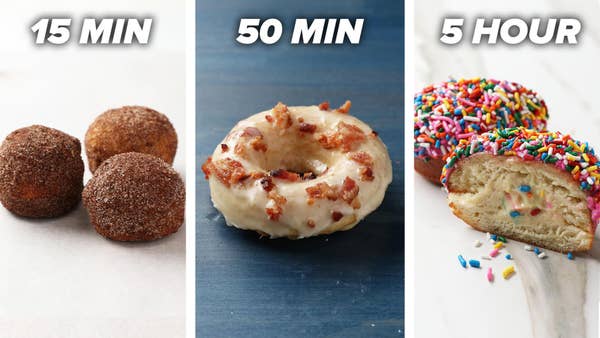 Ingredients
for 8 servings
8 cups canola oil

(1.9 L)

, for frying
4 tablespoons granulated sugar
1 tablespoon cinnamon
½ teaspoon kosher salt
½ teaspoon ground szechuan peppercorn
all purpose flour, for dusting
1 can can of biscuit dough
Preparation
Fill a large pot with 2 inches (5 cm) of canola oil. Heat over medium-high heat until the oil reaches 350°F (180°C).
In a medium bowl, mix together the sugar, cinnamon, salt, and ground Szechuan peppercorns. Set aside.
On a lightly floured surface, use a rolling pin to roll out the biscuits to ¼-inch (6 mm) thick. Using a 2-inch (5 cm) round cutter, punch a mini donut hole out of each biscuit. Discard the remaining dough or save for another use.
Working in batches, add the donut holes to the hot oil and fry for 3 minutes on one side, until golden brown. Flip and cook on the other side for 1–2 minutes more, until cooked through and golden brown all over. Use a wire skimmer to transfer the donut holes to a wire rack set over a baking sheet. Let drain for a minute, then transfer the warm donuts to the sugar mixture and toss well to coat.
Enjoy!
Cook smarter, not harder. Use our AI chef Botatouille on the Tasty app. Download now.