5-Hour Donuts
Indulge in these heavenly 5-Hour Donuts that are worth every minute of preparation! Treat yourself to a delightful, fluffy, and golden-brown delight that will make your taste buds dance.
August 14, 2023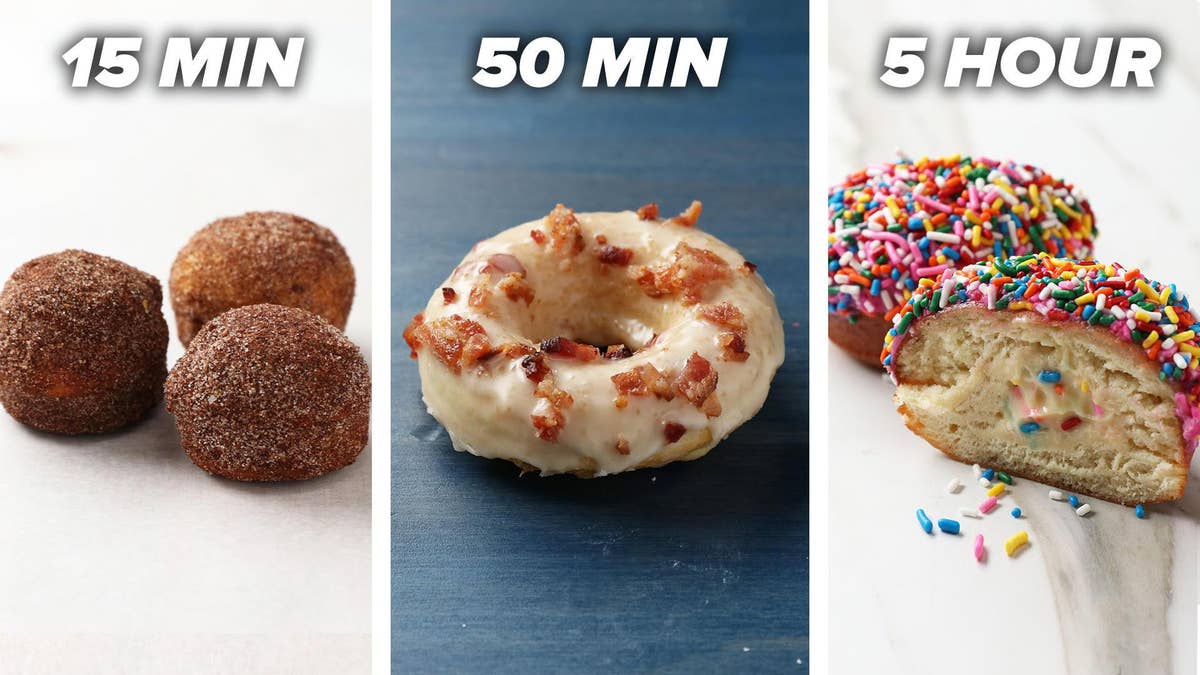 Ingredients
for 6 donuts
Dough
16 oz all purpose flour

(455 g)

, plus more for dusting
2 oz granulated sugar

(55 g)

1 teaspoon kosher salt
1 ½ teaspoons instant yeast
1 large egg, room temperature
1 large egg yolk, room temperature
½ cup buttermilk

(120 mL)

, plus 2 tablespoons
6 tablespoons milk
1 teaspoon vanilla extract
4 tablespoons unsalted butter, melted
nonstick cooking spray, for greasing
6 cups oil

(1.4 L)

, for frying
Pastry Cream
2 cups whole milk

(480 mL)

1 large egg
3 large egg yolks
½ cup sugar

(100 g)

2 ½ tablespoons corn starch
1 pinch kosher salt
3 tablespoons unsalted butter, softened
1 tablespoon vanilla extract
1 teaspoon lemon juice
4 tablespoons rainbow sprinkles
Frosting
8 oz mascarpone cheese

(225 g)

½ cup heavy cream

(120 mL)

2 tablespoons granulated sugar
1 teaspoon vanilla extract
1 pinch kosher salt
2 tablespoons pitaya powder
1 cup rainbow sprinkles

(120 g)
Preparation
Make the dough: In the bowl of a stand mixer fitted with the dough hook, combine the flour, sugar, salt, and yeast.
In a liquid measuring cup, combine the egg, egg yolk, buttermilk, milk, vanilla, and melted butter.
Turn the mixer to medium-low speed. Slowly pour in the wet ingredients, then mix for 4–6 minutes, until the dough is smooth and supple.
Grease a large bowl and a spatula with nonstick spray. Use the spatula to scrape the dough into the greased bowl. Cover with plastic wrap and set somewhere warm to rise until doubled in size, about 2 hours.
While the dough is rising, make the pastry cream: Add the milk to a medium saucepan and bring to a simmer over medium heat.
Add the egg and egg yolks, sugar, cornstarch, and salt to a medium bowl. Whisk until smooth.
Slowly add about ½ cup (120 ml) of the warm milk to the egg mixture, whisking constantly to increase the temperature gradually without cooking the eggs.
Pour the egg mixture into the pot of milk and cook over medium heat, whisking constantly, until thickened, 2–3 minutes.
Remove the pot from the heat and whisk in the butter, vanilla, and lemon juice.
Strain the custard through a fine-mesh sieve into a medium bowl. Cover with plastic wrap, pressing directly against the surface of the custard to prevent a skin from forming. Let cool to room temperature for 30 minutes, then chill in the refrigerator until ready to use.
Once the pastry cream has cooled, stir in the rainbow sprinkles. Transfer to a piping bag fitted with a small round metal tip.
Line a baking sheet with parchment paper and grease with nonstick spray.
Punch the dough down and turn out onto a lightly floured surface. Roll the dough out to ½-inch ( ¼ cm) thick. Using a 3-inch round cutter, punch out donuts without holes. Reroll the excess dough once to cut out more donuts. You should have 6–8 total.
Transfer the donuts to the prepared baking sheet and cover with a kitchen towel. Set aside for 1–2 hours, until doubled in size.
While donuts are rising, make the frosting: In a stand mixer fitted with the whisk attachment, combine the mascarpone, heavy cream, granulated sugar, vanilla, salt, and pitaya powder. Whip on medium speed until soft peaks form, 5 minutes.
Heat the oil in a large pot over medium-high heat until it reaches 350°F (180°C).
Working in batches, fry the donuts in the hot oil until golden brown, 2–3 minutes per side. Transfer to a wire rack to cool.
Pipe the pastry cream into the center of each donut.
Dip each donut in the frosting, then cover liberally with rainbow sprinkles.
Enjoy!
Busy? Plan your meals for the week using our exclusive meal planner tool in the Tasty app. Download now and get organized.