Pumpkin Chai Glazed Donuts
November 03, 2021
Total Time
2 hr 5 min
2 hr 5 min
Prep Time
1 hr 40 min
1 hr 40 min
Cook Time
10 minutes
10 min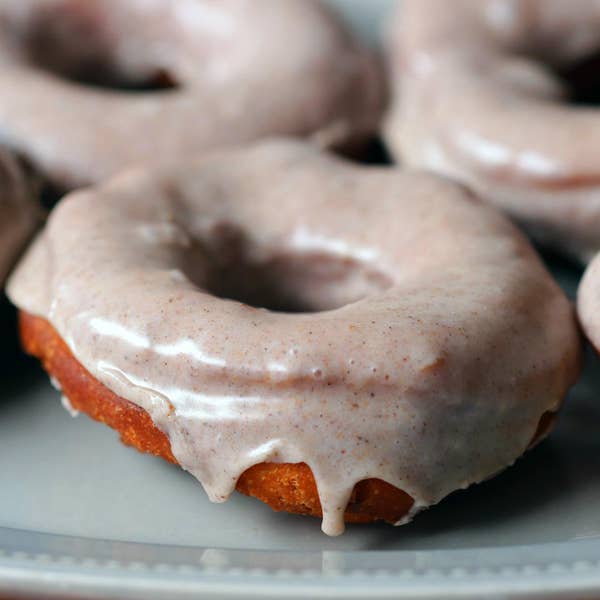 Total Time
2 hr 5 min
2 hr 5 min
Prep Time
1 hr 40 min
1 hr 40 min
Cook Time
10 minutes
10 min
Ingredients
for 9 donuts
Chai Spice Mix
1 teaspoon ground cinnamon
1 teaspoon ground cardamom
½ teaspoon ground cloves
½ teaspoon freshly grated nutmeg
½ teaspoon ground anise
Chai Spice Pumpkin Donuts
2 ½ cups all purpose flour

(310 g)

, sifted, plus more for dusting
1 ½ teaspoons baking powder
1 teaspoon kosher salt
½ cup pumpkin puree

(165 g)

½ cup sour cream

(120 g)

4 tablespoons unsalted butter, softened
1 tablespoon fresh ginger, grated
½ cup granulated sugar

(100 g)

1 large egg
2 large egg yolks
4 qt neutral oil

(3.7 L)

, for frying
Chai Glaze
1 cup powdered sugar

(110 g)

2 tablespoons whole milk
Preparation
Make the chai spice mix: In a small bowl, stir together the cinnamon, cardamom, cloves, nutmeg, and anise seeds until well combined.
Make the donuts: In a medium bowl, whisk together the flour, baking powder, salt, and 1 tablespoon of the chai spice mix.
In a small bowl, mix together the pumpkin purée and sour cream.
In a large glass bowl, combine the butter, ginger, and sugar. Beat with an electric hand mixer on medium speed until smooth and creamy, about 1 minute.
With the mixer running, add the egg and egg yolks, 1 at a time, and mix until fully incorporated.
Add ⅓ of the flour mixture and continue mixing until just combined. Then, add half of the pumpkin mixture and mix until just combined. Continue alternating additions, finishing with the flour mixture and mixing until the dough just comes together.
Cover the bowl with plastic wrap and refrigerate for 1 hour.
Line a baking sheet with parchment paper.
Turn the dough out onto a floured surface and dust the top with more flour. Use a rolling pin to roll out to ¼ inch thick. Use a 3½-inch round cutter to cut out 9 rounds. Then, use a 1-inch round cutter to cut out the centers of each round (gather and re-roll the scraps once if needed to get 9 donuts). Place the donuts on the prepared baking sheet and refrigerate for 30 minutes.
Heat the oil in a large pot over medium heat until the temperature reaches 350°F (180°C).
Working in batches to avoid overcrowding the pot, fry the donuts in the hot oil until golden brown and crisped, flipping once, about 2 minutes per side. Transfer to a wire rack set over paper towels to drain.
Make the chai glaze: In a medium bowl, whisk together the powdered sugar, remaining ½ teaspoon of the chai spice mix, and the milk until smooth.
Dip the top of each donut in the glaze to coat, then return to the rack to let any excess glaze drip off.
Enjoy!