Air Fried Chicken Wings With White Barbecue Sauce
Beer-brined wings are seasoned with smoked paprika, onion, garlic, chili powder, and brown sugar, then tossed in the air fryer for a crispy finish. Take it up a notch and serve them alongside a zesty white barbecue sauce with hints of horseradish and cayenne pepper.
August 14, 2023
Total Time
4 hr 40 min
4 hr 40 min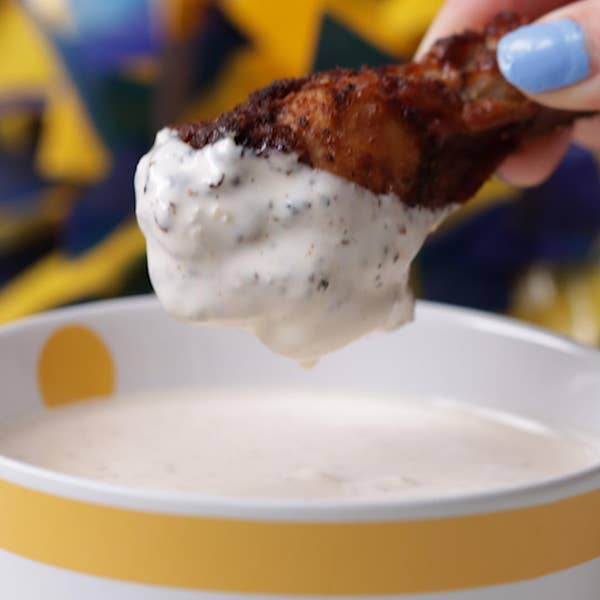 Total Time
4 hr 40 min
4 hr 40 min
Ingredients
for 4 servings
Chicken Wings
2 cups stout beer

(480 mL)

1 cup water

(240 mL)

1 lemon, juiced
¼ cup kosher salt

(30 g)

, divided, plus 2 teaspoons
1 lemon, zested
3 teaspoons freshly ground black pepper, divided
3 lb chicken wings

(1.2 g)

2 tablespoons smoked paprika
2 teaspoons onion powder
2 teaspoons garlic powder
1 teaspoon chilli powder
1 tablespoon light brown sugar
3 tablespoons canola oil
White Barbecue Sauce
1 cup mayonnaise

(240 g)

1 lemon, juiced
¼ cup apple cider vinegar

(60 mL)

1 teaspoon worcestershire sauce
2 tablespoons prepared horseradish
½ teaspoon kosher salt
½ teaspoon celery seed
¼ teaspoon cayenne
Preparation
In a large bowl, whisk together the stout, water, lemon juice, ¼ cup salt, the lemon zest, and 1 teaspoon black pepper. Add the chicken wings and toss to coat, then cover the bowl with plastic wrap and refrigerate for at least 4 hours, up to overnight.
In a small bowl, stir together the paprika, onion powder, remaining 2 teaspoons black pepper, the garlic powder, chili powder, brown sugar, and remaining 2 teaspoons of salt.
Make the white barbecue sauce: In a medium bowl, whisk together the mayonnaise, lemon juice, apple cider vinegar, Worcestershire sauce, horseradish, salt, celery seeds, and cayenne. Cover and refrigerate until ready to use.
Preheat the air fryer to 320°F (160°C) for 20 minutes.
Remove the wings from the brine and pat dry with paper towels. Transfer the wings to a large bowl. Drizzle the canola oil over the wings and toss to coat completely, then add the spice mix and toss again until evenly coated.
Place the seasoned wings in the air fryer in a single layer, working in batches if necessary, and fry until beginning to brown, about 15 minutes. Flip the wings and continue cooking until they are beginning to crisp and almost cooked through, about 15 minutes more. Increase the heat to 360°F (182°C) and continue cooking until the wings are very crispy, about 5 minutes more.
Serve the wings with the white barbecue sauce.
Enjoy!
Hate losing that perfect recipe? Save and organize recipes easily on the Tasty app. Download now.