Orange Chicken
Classic for a reason, these crispy and tender chicken bites are tossed in a sweet and spicy orange glaze. This dish is a flavorful and satisfying!
August 17, 2023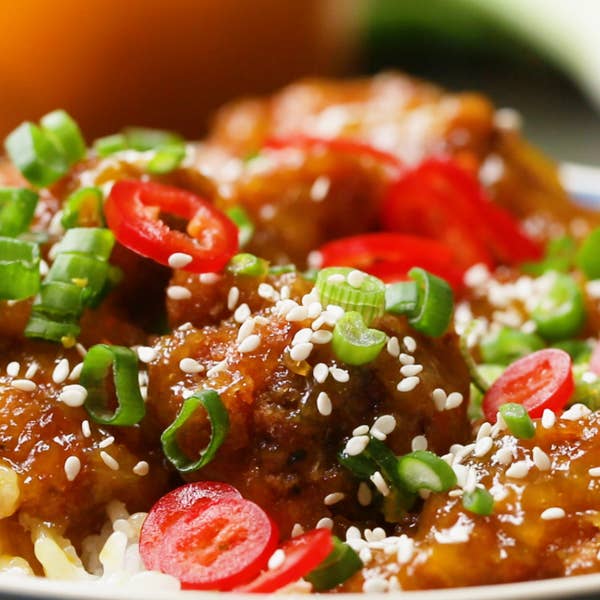 Ingredients
for 1 serving
1 ¼ cups boneless, skinless chicken breasts

(150 g)

, diced
1 orange, zested
1 teaspoon crushed garlic
1 tablespoon soy sauce
1 pinch salt
1 pinch black pepper
2 cups neutral oil

(500 mL)

½ cup all-purpose flour

(50 g)

2 large eggs, beaten
1 cup panko bread crumbs

(50 g)
Orange Sauce
¼ cup chicken stock

(50 mL)

1 orange, zested
2 oranges, juiced
4 tablespoons sugar
2 tablespoons water
1 tablespoon cornstarch
cooked rice, for serving
thinly sliced scallion, for garnish
sesame seed, for garnish
sliced red chile, for garnish
Preparation
Add the chicken to a large bowl, along with the orange zest, garlic, soy sauce, salt, and pepper. Mix well, then marinate in the refrigerator for 20 minutes.
In a medium saucepan, heat the oil over medium-high heat until the temperature reaches 325°F (170°C),
Remove the chicken from the refrigerator and coat in the flour, then the eggs, then the panko.
Working in batches, fry the breaded chicken in the hot oil for 3-4 minutes, until the coating is golden brown and the chicken is cooked through. Transfer to a paper towel-lined tray to drain.
Make the orange sauce: In a medium pan, combine the chicken stock, orange zest and juice, and sugar. Bring to a boil over medium-high heat.
Mix the cornflour with the water, then add the slurry to the sauce and cook until thickened.
Add the chicken to the pan and toss to coat with the orange sauce.
Serve on top of rice with scallions, sesame seeds, and/or sliced red chiles for garnish.
Enjoy!
Busy? Plan your meals for the week using our exclusive meal planner tool in the Tasty app. Download now and get organized.