99% would make again
Pineapple Sweet & Sour Chicken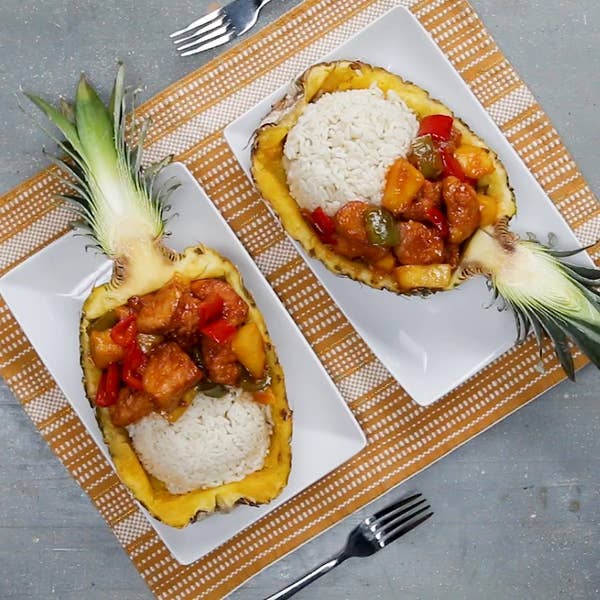 Inspired by tasty.co
Ingredients
for 4 servings
1 ½ lb chicken breast

(680 g)

, chopped into bite-size pieces
1 tablespoon soy sauce
1 cup cornstarch

(125 g)

, plus 1 tbsp, divided
1 large egg
1 pineapple
2 tablespoons vegetable oil, plus more for frying
½ red bell pepper, chopped
½ green bell pepper, chopped
½ cup white onion

(75 g)

, chopped
2 teaspoons garlic, minced
1 teaspoon ginger, minced
¼ cup rice vinegar

(60 mL)

¼ cup sugar

(50 g)

3 tablespoons ketchup
white rice, cooked, for serving
scallion, sliced, for garnish
sesame seed, for garnish
Nutrition Info
Estimated values based on one serving size.
Preparation
In a large bowl, combine the chicken with 1 tablespoon soy sauce, 1 tablespoon cornstarch, and 1 egg. Cover and marinate in the fridge for 20 minutes.
Cut the pineapple in half lengthwise and carefully cube the fruit in each half, leaving the outside of the pineapple intact. Scoop out the cubed pineapple and set aside.
Place the remaining cup of cornstarch in a separate large bowl and toss the marinated chicken pieces until liberally coated. Shake off excess.
Fill medium pot halfway with oil and heat until the oil reaches 350˚F (180°C).
Fry the chicken for 4-5 minutes, until the coating is golden brown and the chicken is cooked throughout. Transfer to a wire rack set over paper towels to drain.
To make the sauce, heat 2 tablespoons of vegetable oil in a medium frying pan over a medium heat. Sauté the bell pepper and onion for 2-3 minutes, until softened.
Add the garlic and ginger, and cook until fragrant.
Add the vinegar, sugar, and ketchup, and stir. Bring the mixture to a boil.
Add the pineapple cubes and warm thorough.
Add the chicken to the frying pan and toss to coat with the sauce.
Scoop the mixture into the hollowed out pineapple along with a scoop of rice.
Garnish with scallions and sesame seeds.
Enjoy!