Apple Pie Winter Smoothie
June 10, 2019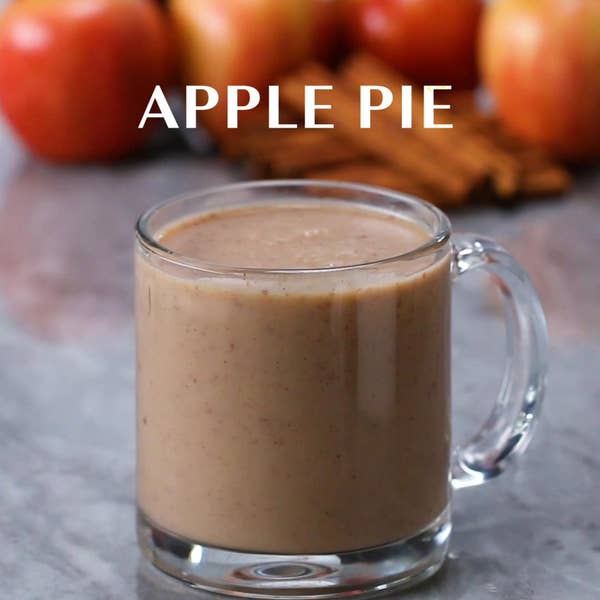 Ingredients
for 1 serving
1 red apple, cored and diced
2 tablespoons gluten-free oats
¼ teaspoon cinnamon
¼ teaspoon nutmeg
½ tablespoon maple syrup
1 cup milk

(240 mL)

, of choice
Nutrition Info
Calories

349

Fat

6g

Carbs

67g

Fiber

8g

Sugar

43g

Protein

10g
Estimated values based on one serving size.
Preparation
In a blender, combine the apple, oats, cinnamon, nutmeg, maple syrup, and milk. Blend on high speed for 3 minutes, or until completely smooth.
Transfer the apple mixture to a small saucepan and heat over medium-low heat until just warmed through. Do not boil.
Pour into a mug and serve immediately.
Enjoy!
Nutrition - Calories: 403, Total fat: 8 grams, Sodium: 133 mg, Total carbs: 72 grams, Dietary fiber: 9 grams, Sugars: 25 grams, Protein: 14 grams
Ingredients
for 1 serving
1 red apple, cored and diced
2 tablespoons gluten-free oats
¼ teaspoon cinnamon
¼ teaspoon nutmeg
½ tablespoon maple syrup
1 cup milk

(240 mL)

, of choice
Nutrition Info
Calories

349

Fat

6g

Carbs

67g

Fiber

8g

Sugar

43g

Protein

10g
Estimated values based on one serving size.
Preparation
In a blender, combine the apple, oats, cinnamon, nutmeg, maple syrup, and milk. Blend on high speed for 3 minutes, or until completely smooth.
Transfer the apple mixture to a small saucepan and heat over medium-low heat until just warmed through. Do not boil.
Pour into a mug and serve immediately.
Enjoy!
Nutrition - Calories: 403, Total fat: 8 grams, Sodium: 133 mg, Total carbs: 72 grams, Dietary fiber: 9 grams, Sugars: 25 grams, Protein: 14 grams