Braised Pork Belly Adobo By Chef Leah Cohen
Chef Leah Cohen's braised pork belly adobo recipe is a succulent and savory dish that will leave your taste buds satisfied. The slow-cooked pork belly is tender and juicy, infused with a tangy and spicy adobo sauce that packs a punch of flavor.
May 04, 2023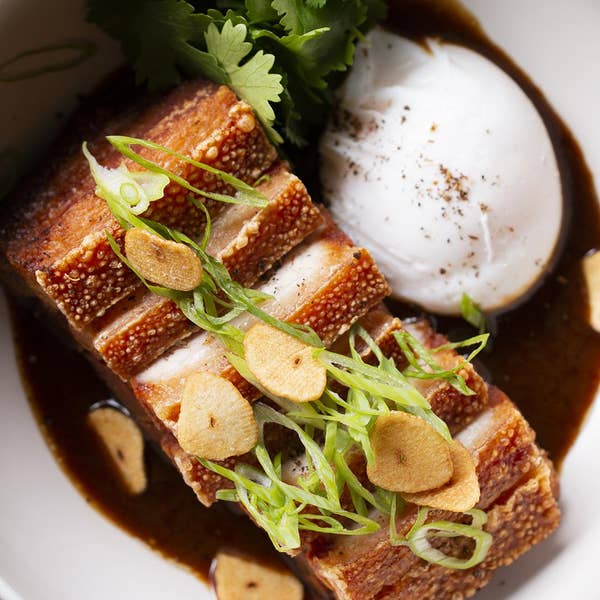 Ingredients
for 8 servings
Braised Pork Belly
1 ½ lb whole skin-on pork belly

(680 g)

¼ cup kosher salt

(60 g)

2 tablespoons sugar
1 teaspoon ground black pepper
1 pod star anise
2 cloves garlic
3 bay leaves
⅓ cup soy sauce

(80 mL)

2 tablespoons apple cider vinegar
½ gal water

(1.9 kg)
Adobo Sauce
⅓ cup water

(80 mL)

1 cup soy sauce

(240 mL)

2 tablespoons sugar
2 tablespoons canola oil
½ teaspoon bay leaf powder
1 ½ teaspoons freshly ground black pepper
3 cloves garlic
⅓ cup coconut vinegar

(80 mL)

⅔ cup full-fat coconut milk

(160 mL)

oil, for frying
Assembly
4 poached eggs
4 pinches ground szechuan peppercorn
2 teaspoons scallion, thinly sliced, green parts only
2 teaspoons garlic, fried
4 teaspoons fresh cilantro
jasmine rice, cooked
Preparation
Preheat the oven to 325˚F (160˚C).
Cut the pork belly in half crosswise and place in a Dutch oven or large oven-safe pot.
In a large bowl, combine the salt, sugar, pepper, star anise, garlic, bay leaves, soy sauce, apple cider vinegar, and water. Whisk until the salt and sugar have dissolved.
Pour the braising liquid over the pork belly. Cover the pork belly with a sheet of parchment paper, then tightly cover the pot with a sheet of aluminum foil. Bake for 2-2½ hours, until the pork is tender but not falling apart.
Remove the pork belly from the braising liquid and transfer to a wire rack set over a baking sheet. Chill uncovered in the refrigerator overnight.
Make the adobo sauce: In a medium saucepan over low heat, combine the water, soy sauce, sugar, canola oil, bay leaf powder, black pepper, garlic, coconut vinegar, and coconut milk. Simmer for 15-20 minutes. Remove the sauce from the heat and reserve until ready to use.
Remove the pork belly from the refrigerator and cut it into approximately 8 5-ounce (140 g) pieces. Score the pork by slicing through the fat cap, stopping once you reach the meat, in ½-inch (1 cm) sections.
Fill a large pot halfway with the oil and heat until it reaches 375˚F (190˚C).
Fry the pork belly until the skin is crispy and the center is hot, about 8 minutes.
Slice the pork belly between the scores.
To serve, ladle some adobo sauce on the bottom of a serving bowl. Arrange a portion of pork belly on top and garnish with a poached egg, Szechuan pepper, scallions, fried garlic, and cilantro. Serve with Jasmine rice alongside.
Enjoy!
Busy? Plan your meals for the week using our exclusive meal planner tool in the Tasty app. Download now and get organized.