Churro And Pineapple "Eton Mess"
This Churro Eton Mess is one heck of an international collaboration! 🇬🇧 + 🇲🇽 Don't miss Sam Claflin & Verónica Echegui in Book of Love, coming to Amazon Prime Video February 4th! Tuning in from the UK? You can watch Book of Love on Sky Cinema starting February 12th – just in time for Valentine's Day!
February 03, 2022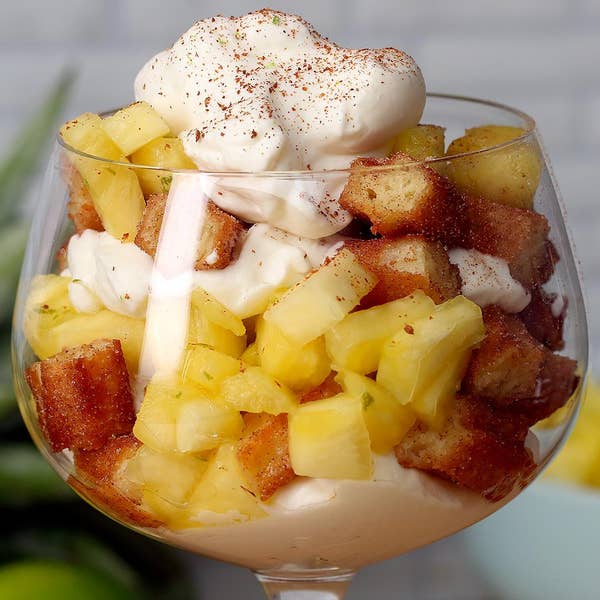 Ingredients
for 6 servings
Macerated pineapple:
1 pineapple, cored and finely diced
2 limes, zested
3 teaspoons sugar
1 oz tequila

(30 mL)

, optional
1 pinch salt
Churros:
1 ¼ cups water

(300 mL)

⅓ cup butter

(75 g)

2 tablespoons sugar
½ teaspoon salt
1 ¼ cups AP flour

(155 g)

1 teaspoon vanilla extract
2 eggs
vegetable oil, for frying
Cinnamon sugar:
⅔ cup sugar

(135 g)

1 ½ teaspoons cinnamon
Whipped cream:
1 cup whipped cream

(240 mL)

¼ cup sugar

(50 g)

1 teaspoon vanilla extract
1 pinch of salt
Preparation
Being by macerating your pineapple. In a bowl, toss the diced pineapple with the lime zest, sugar, salt, and tequila (if using). Allow the pineapple to macerate for 30 minutes to bring out the juices of the pineapple and set aside.
Make your whipped cream by placing the cream in a mixing bowl and whisking vigorously. When soft peaks form, add in the sugar and vanilla then continue to whisk until a firm peak forms. Set aside.
Next, make your churro dough. In a pot, combine the water, butter, sugar, and salt. Bring up to a gentle boil then add the flour. Reduce the heat to medium low and mix well with a wooden spoon until the mixture has no lumps and the flour has cooked out, about 2 minutes. Remove from the heat and allow the mixture to cool for a few minutes. Then add the vanilla extract, followed by one of the eggs. Whisk vigorously to bring the mixture together to a uniform consistency, then add the second egg and repeat. Whisk until the mixture forms a homogeneous dough, then transfer to a piping bag that is fitted with a large star tip.
In a large mixing bowl, whisk together the sugar and cinnamon then set aside. In a heavy bottomed pot, bring the oil up to 350 degrees. Carefully pipe 8" long ropes of the churro dough into the oil, cutting with a pair of sharp kitchen shears or simply ripping by hand. Allow the churros to fry for 2-3 minutes, flipping halfway through for even golden brown colour. When golden and cooked, take the churros out of the oil, transfer to a paper towel lined plate, then transfer once more to the bowl with the cinnamon sugar. Toss the churro around to coat in the cinnamon sugar then set aside and repeat until all of the churros have been cooked.
To make the eton mess, roughly chop the cooked churros. Then, take your serving bowl and place some of the whipped cream on the bottom. Top with chopped churros, followed by the macerated pineapple and it's juices. Repeat with more cream, churro, and pineapple. Top your last layer with a final dollop of cream and a sprinkling of cinnamon to finish. Enjoy!
Meal planning made easy with the Tasty app. Download now to see exclusive curated meal plans.