Classic Hummus By Alon Shaya
Chef Alon Shaya's classic hummus recipe is rich and creamy, with the perfect blend of tahini, garlic, and lemon juice.
May 15, 2023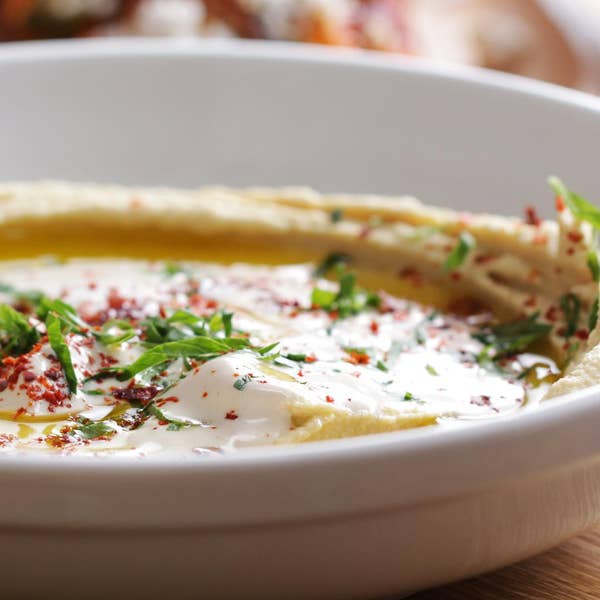 Ingredients
for 4 servings
1 ½ cups dried chickpeas

(300 g)

3 teaspoons baking soda, divided
3 qt cold water

(2.8 L)

, divided
7 cloves garlic, lightly crushed
¼ cup raw tahini

(55 g)

1 ½ teaspoons kosher salt
½ teaspoon cumin
2 tablespoons lemon juice
3 tablespoons canola oil
2 tablespoons hot water
2 tablespoons extra virgin olive oil
For garnish
tahini sauce, optional
3 tablespoons olive oil, optional
¼ cup fresh parsley

(10 g)

, lightly chopped (optional)
½ teaspoon aleppo-style pepper, optional
Nutrition Info
Calories

497

Fat

35g

Carbs

36g

Fiber

7g

Sugar

6g

Protein

12g
Estimated values based on one serving size.
Preparation
In a large bowl, combine the dried chickpeas, ½ teaspoon baking soda, and 1½ quarts (1.4 L) of cold water water. Soak overnight.
Preheat the oven to 400˚F (200˚C).
Drain the chickpeas and transfer to a baking sheet. Sprinkle with 2 teaspoons of baking soda and spread evenly on the sheet. Bake for 10 minutes.
Transfer baked chickpeas to colander and rinse under cold water. Massage to remove excess baking soda and begin to loosen the skins.
In a large pot over high heat, add the rinsed chickpeas, remaining 1½ quarts (1.4 L) of water, and remaining ½ teaspoon of baking soda. Bring to a boil, then reduce the heat to medium.
With a slotted spoon or small sieve, skim away any foam and loose skins that rise to the surface of the water and discard. This will ensure the hummus is extra creamy and smooth! Continue this process, regularly skimming off any loose skins, for about 20 minutes.
Add the garlic to the pot and continue to cook for another 25-30 minutes, until the chickpeas are very soft and easily fall apart.
Drain the chickpeas and let sit for a few minutes to let any extra moisture drain off.
Transfer the chickpeas to a food processor with the tahini, salt, cumin, and lemon juice. Process for 2-3 minutes, until the mixture is super smooth.
With the food processor still running, add the canola oil, hot water, and 2 tablespoons of olive oil. Continue to process for another 2-3 minutes. Don't worry, you can't over-process it! You want the hummus to be as smooth and creamy as possible.
To serve, spread the hummus in a wide, shallow bowl. If desired, top with tahini sauce, olive oil, and garnish with parsley and Aleppo-style pepper.
Enjoy!