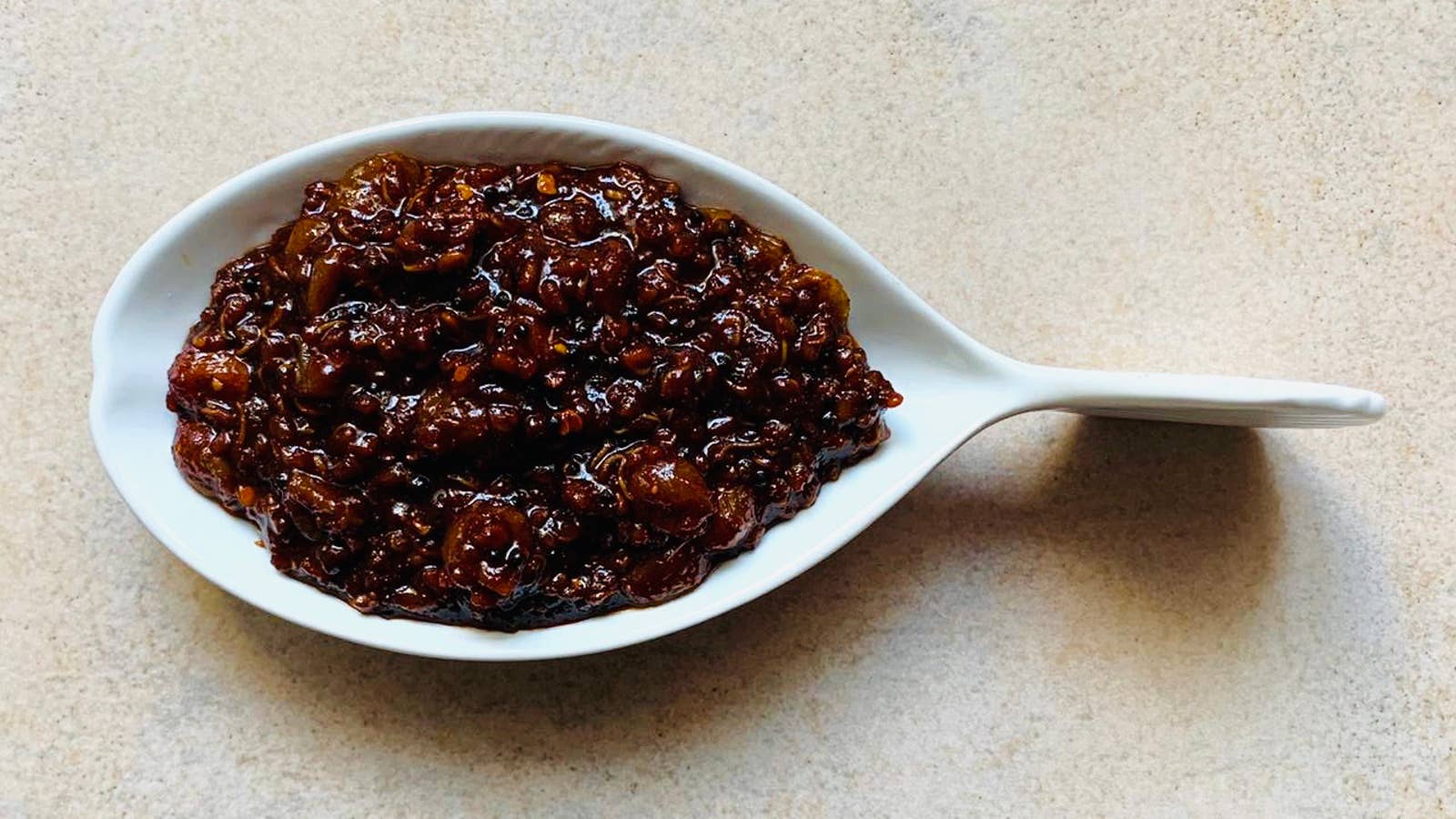 Ingredients
for 25 servings
1 cup fenugreek

(100 g)

4 tablespoons sesame oil
1 ½ teaspoons black mustard seeds
1 teaspoon asafoetida
1 teaspoon salt, or to taste, divided
1 cup sweet fresh seedless grapes

(100 g)

1 tablespoon red chile powder, heaping
½ cup medium concentrate tamarind juice

(120 mL)

, diluted tamarind paste or powder, 2 tablespoons lemon or lime juice, or 1 tablespoon vinegar
2 tablespoons jaggery, brown sugar, or honey
Nutrition Info
Estimated values based on one serving size.
Preparation
Soak the fenugreek seeds in water for 24 hours. Drain, wrap loosely in a cotton cloth, and keep covered in a bowl for another 24 hours. The seeds should have sprouted.
Heat the sesame oil in a non-stick pan. When hot, add the mustard seeds.
After the mustard seeds splutter, add the asafoetida and sprouted fenugreek.
Add half the salt amount, mix, cover, and cook for 5-7 minutes on medium heat.
Now add the grapes, the remaining salt, and the chile powder. Cover and cook for another 5 minutes.
Add the tamarind juice, mix, and keep covered for another 3 minutes.
Take off the lid, add the jaggery, and simmer until the oil starts to float on the top (should be about 5 mins).
Serve or store for up to 6 months!
Note: To enhance the flavor, you can use dry red chiles instead of store-bought chile powder. Use 8 chiles for this quantity of pickle and add it to the oil at the beginning (before you add the mustard seeds). Fry for just about 45 seconds on low heat. Take just the chiles out, leave the oil in the pan and turn off the stove. After the chiles cool down in a few mins, grind them into a powder. Make the pickle in the chile-infused oil you already have in your pan with the chile powder you have just made.
Enjoy!