Hawaiian BBQ Pulled Jackfruit Pizza
December 02, 2020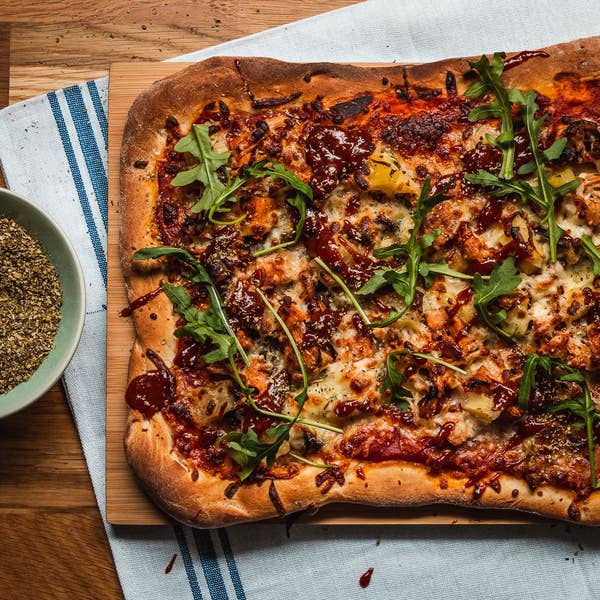 Ingredients
for 4 pizzas
For the Dough
1 ½ cups warm water

(360 mL)

2 teaspoons caster sugar
1 teaspoon dried yeast

(5 g)

1 teaspoon salt
¼ cup olive oil

(40 mL)

1 lb white bread flour

(500 g)
For the BBQ Sauce
1 tablespoon oil
1 red onion, diced
2 garlic cloves, peeled and crushed
2 teaspoons smoked paprika
½ teaspoon cayenne pepper
½ teaspoon ground ginger
½ teaspoon ground cinnamon
1 teaspoon salt
½ cup ketchup

(120 g)

6 tablespoons rice vinegar

(30 mL)

¼ cup light brown sugar

(70 g)
Knorr Vegetable Stock Pot
2 ½ cups jackfruit

(400 g)

1 red onion, sliced
1 green pepper, sliced
1 cup passata

(200 g)

1 cup pineapple

(150 g)

, choppedd
3 cups mozzarella cheese

(300 g)

, grated
dried oregano
rocket
Nutrition Info
Calories

1152

Fat

40g

Carbs

161g

Fiber

7g

Sugar

36g

Protein

42g
Estimated values based on one serving size.
Preparation
Start by making the pizza dough. Add the sugar to your warm water and stir to dissolve. Next add the yeast, stir to combine and leave to activate for 10 minutes.
Meanwhile, add the strong white bread flour and salt to a large bowl and stir to combine. Once your yeast is bubbly and alive add to your dry ingredients along with your olive oil.
Bring together into a dough and turn out onto a floured work surface. Knead for 10-15 minutes or until nice and elastic.
Lightly grease a large bowl and place your kneaded dough in the bowl. Cover and leave to prove for 1 hour or until doubled in size.
Whilst you are waiting for that lovely dough to rise, get on with your BBQ sauce. Place a saucepan over a medium heat and add the oil, red onion and garlic. Cook for 5-6 minutes stirring occasionally.
Next add the 2 tsp smoked paprika, ½ tsp cayenne pepper, ½ tsp ground ginger, ½ tsp ground cinnamon, 1 tsp salt. Stir and toast the spices for 1-2 minutes.
Add the ketchup, rice vinegar, light brown sugar, Knorr Vegatable Stock Pot and 300ml of hot water. Stir, bring to a simmer and cook for 20 minutes. Once cooked, puree in a blender. Set aside.
Preheat the oven to 190C.
Place your jackfruit, red onion, green pepper on a baking tray along with 6 tbsp of your BBQ sauce. Stir until your veggies are nicely coated with your BBQ sauce. Roast in the oven for 25 minutes. Once starting to char and nicely roasted pull the jackfruit, give everything a good stir and place into a bowl.
When you are ready to cook your pizzas turn your oven up as high as it will go! Next simply remove your dough from the bowl, stretch into a rough sausage shape and divide the dough into four.
Stretch the dough out thin into a pizza shape and top with passata, your jackfruit mix, pineapple chunks and lashings of cheese. Place onto a baking tray and bake for 8-10 minutes or until the bottom is crispy, the cheese is bubbling and the crust is charring.
Once cooked top an extra drizzle of BBQ sauce, dried oregano and rocket. Serve & enjoy!