Homemade Vs. Store-Bought: Twinkies
Indulge in the ultimate snack showdown with these Homemade vs. Store-Bought Twinkies! Discover the joy of creating your own fluffy, golden sponge cake filled with creamy goodness, and taste the difference that homemade brings to the table.
May 04, 2023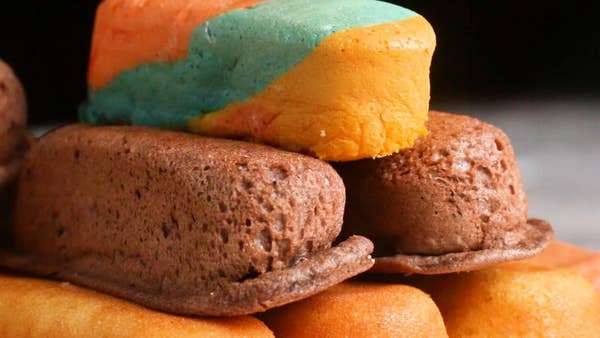 Ingredients
for 8 servings
4 large eggs, separated
¼ teaspoon cream of tartar
¼ cup sugar

(50 g)

½ cup cake flour

(50 g)

¼ cup all-purpose flour

(30 g)

¼ teaspoon salt
1 teaspoon baking powder
2 tablespoons milk
4 tablespoons salted butter, 1/2 stick
1 tablespoon vanilla
Filling
8 oz marshmallow fluff

(225 g)

⅓ cup milk

(80 mL)
Special Equipment For DIY Molds
8 square sheets tin foil, 12 in (30 cm) square sheet
1 medium potato, or 1 small spice container
Preparation
Using a hand mixer, beat the egg whites in a large bowl until foamy. Add the cream of tartar and continue beating until soft peaks form.
In a medium bowl, beat the egg yolks with a hand mixer. Add the sugar a bit at a time and beat until thickened. Add the yolk mixture to the egg whites.
Sift the cake flour, all-purpose flour, salt, and baking powder and add to the egg whites. Gently fold until fully combined.
Add the butter and milk to a bowl or glass measuring cup and microwave for 20 seconds, or until the butter melts completely. Add the butter mixture and the vanilla to the batter and gently mix.
If you have the Twinkie machine, you can simply pour in the batter and follow the machine's instructions.
If you're not using the Twinkie machine to bake your Twinkies, preheat the oven at 350ºF (180ºC).
If you are using DIY molds, grab a sheet of tin foil, fold it in half, then in half again, and, using a small container or other Twinkie-shaped item, mold the foil into an oblong shape. Trim the excess foil around the edges. Repeat to make 8-10 molds total.
Fill the molds halfways and bake for 15 minutes, or until a toothpick inserted in the middle of the cake comes out clean.
If you are using a Twinkie baking pan, fill each indent halfway and bake for about 13 minutes, or until a toothpick inserted in the middle of a cake comes out clean. Let the cakes cool down.
To make the filling, mix the marshmallow fluff and milk in a large bowl. Microwave for 20 seconds, then set aside to cool.
Once the cakes are done, let cool. Fill a pastry bag with the filling. Use the tip to make 3 small holes in each cake, and squeeze in the filling.
Enjoy!
All your favorite recipes, stored in one place. Download the Tasty app and never lose a recipe again.