95% would make again
Kkwabaegi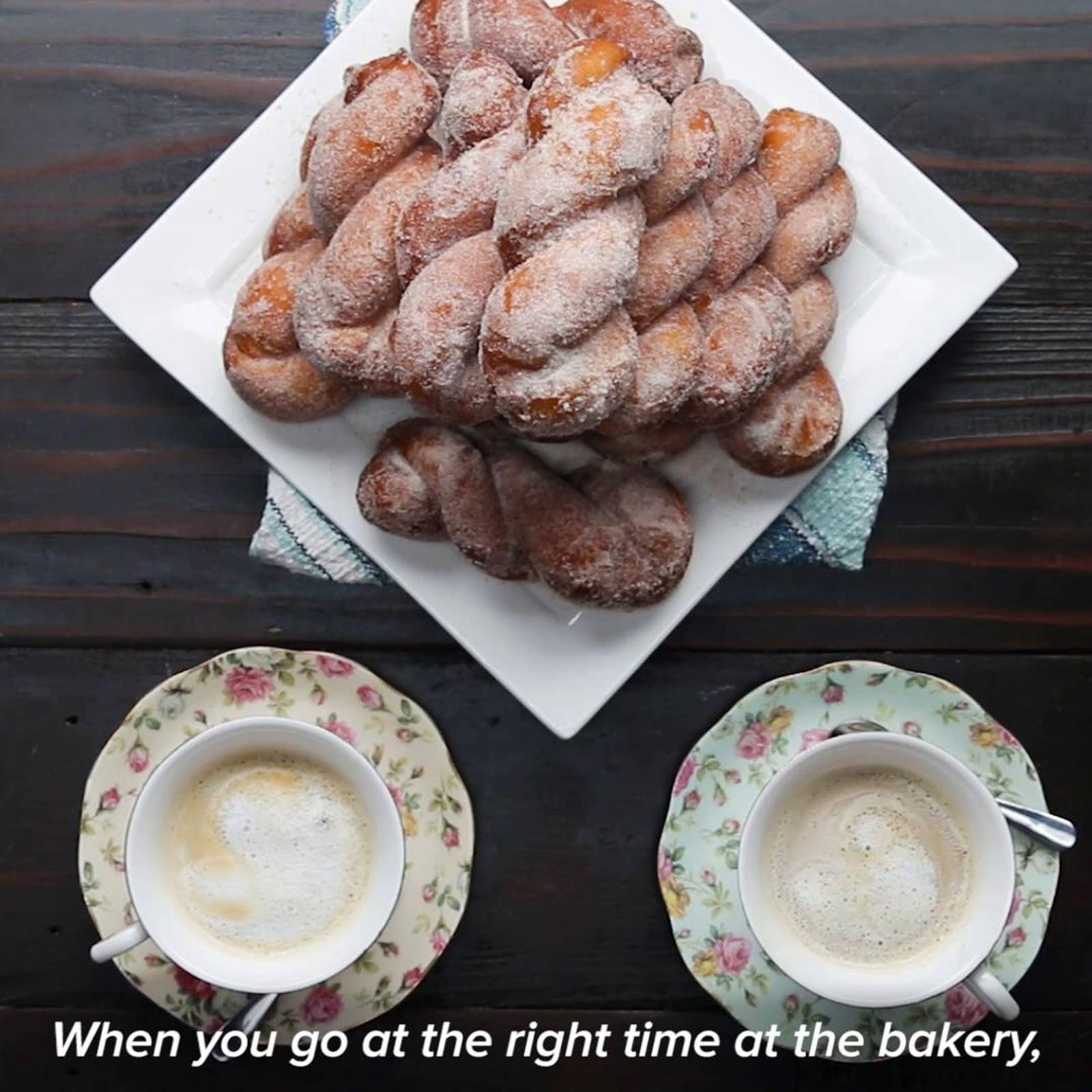 Inspired by maangchi.com
Ingredients
for 12 doughnuts
1 cup whole milk

(240 mL)

, warm
2 tablespoons unsalted butter, melted
2 tablespoons sugar, plus more for coating
2 ¼ teaspoons active dry yeast
½ teaspoon kosher salt
1 large egg
3 cups all-purpose flour

(375 g)

, plus more for dusting
oil, for frying
2 tablespoons ground cinnamon
Nutrition Info
Estimated values based on one serving size.
Preparation
In a large bowl, whisk together the warm milk, butter, and sugar.
Add the yeast and let the mixture sit for 10 minutes, until it becomes foamy.
Add the salt and egg and whisk to combine.
Add the flour. Mix with a spatula until the dough starts to come together.
Knead the dough on a floured surface for 3-5 minutes.
Drizzle a bit of oil into the bowl, then add the dough. Cover with a cloth or plastic wrap and let rest in warm place for 1 hour, or until the dough doubles in size.
Sprinkle the dough with a bit of flour, then punch down to release the gas and knead it for a few minutes until the dough is soft and smooth. Cover again and let it sit for another 30 minutes, or doubled in size again.
Heat oil in a deep skillet over medium-high heat until it reaches to 350°F (180°C).
Transfer the dough to a clean surface, sprinkle with a bit of flour, and knead for 3-5 minutes, or until you have a soft, shiny, slightly sticky dough.
Divide the dough into 12 equal parts and roll into balls. Set the balls on a plate and cover with plastic wrap.
Working one at a time, roll a ball of dough out on your cutting board so it forms a rope 10-inches (25 cm) long and ½-inch (1 cm) in diameter.
Place a hand on either end of the dough rope. Move one hand upward and the other downward so that the rope becomes twisted in between your hands as you roll it.
Lift the dough, joining the 2 ends together to seal. The tension in the dough will twist it as it hangs. Add more twists, if desired.
Repeat with the remaining dough pieces.
Allow the doughnuts to rise for 30 minutes on a tray or cutting board, flipping halfway.
Reduce the heat under the skillet to medium.
Gently lower each doughnut into the hot oil.
Fry for 5 minutes, or until golden brown. Occasionally flip doughnuts over to ensure they are even in color. Drain on a wire rack.
In a small bowl, mix together 1 cup (200 g) of sugar and 2 tablespoons of cinnamon.
Distribute mixture onto a plate, and roll the doughnuts in the cinnamon sugar.
Serve warm.
Enjoy!