Conchas As Made By Maya
Maya shows us how she reclaims her culture with this traditional Mexican sweet bread. Conchas are the perfect combination of crispy and soft, vibrant and perfect to be shared with loved ones.
September 05, 2019
Total Time
3 hr 6 min
3 hr 6 min
Prep Time
30 minutes
30 min
Cook Time
26 minutes
26 min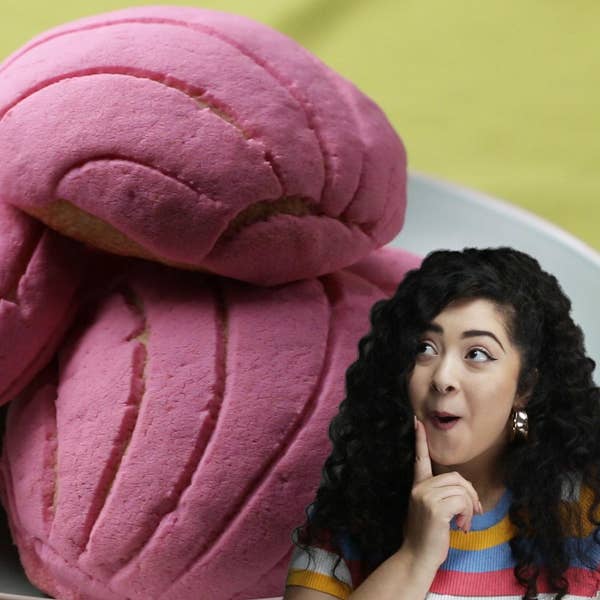 Total Time
3 hr 6 min
3 hr 6 min
Prep Time
30 minutes
30 min
Cook Time
26 minutes
26 min
Ingredients
for 10 servings
Bread
⅓ cup whole milk

(80 mL)

1 tablespoon sugar, plus 1 teaspoon divided
.25 oz active dry yeast

(5 g)

, 0.25 ounce (7 G)
3 large eggs, room temperature, beaten
2 teaspoons vanilla extract
2 ½ cups all purpose flour

(260 g)

, plus more for dusting
1 ½ teaspoons kosher salt
2 sticks unsalted butter, softened, cut into tablespoons, wrappers reserved
Shell Topping
6 tablespoons unsalted butter
6 tablespoons powdered sugar
½ cup all purpose flour

(60 g)

⅛ teaspoon baking powder
⅛ teaspoon kosher salt
2 drops pink gel food coloring
Nutrition Info
Calories

249

Fat

9g

Carbs

34g

Fiber

1g

Sugar

6g

Protein

6g
Estimated values based on one serving size.
Preparation
Make the dough: Add the milk to a microwave-safe liquid measuring cup. Microwave in 10-second intervals until the milk reaches 110–115°F (43–46°C). Add 1 teaspoon of sugar and the yeast to the milk and whisk to incorporate. Let sit for about 10 minutes, until very foamy.
Pour the milk mixture into a large bowl, then add the eggs and vanilla. Whisk until well combined.
Add the flour, remaining tablespoon of sugar, and salt and stir with a rubber spatula until a sticky dough comes together.
Add the butter, 1 piece at a time, and work into the dough with your hands, making sure that each piece is incorporated before adding the next. The dough should be shiny, smooth, and elastic.
Use the empty butter wrappers to grease the inside of a clean large glass bowl.
Transfer the dough to the greased bowl, using a bench scraper or rubber spatula. Cover with a kitchen towel and let the dough rise in a warm, draft-free place for 1–2 hours, until doubled in size.
Remove the towel and place plastic wrap directly over the dough's surface. Refrigerate for 1 hour to chill so the dough is easier to shape.
Make the shell topping: In a medium bowl, cream the butter and powdered sugar with a hand mixer on medium speed until light and fluffy, about 5 minutes. Add the flour, baking soda, and salt. Continue beating on low speed until the mixture is smooth, 3-5 minutes.
Add the pink food coloring and stir thoroughly with a spatula until the color is homogenous.
Line 2 baking sheets with parchment paper.
Turn the chilled dough out onto a lightly floured surface. With a bench scraper or knife, gently divide the dough into 10 equal pieces.
Shape the pieces into balls by gently pulling the edges of the dough out and underneath, pinching at the bottom, forming a taut surface.
Place 5 dough balls on each prepared baking sheet and cover with kitchen towels. Let rise in a warm, draft-free place for 1–2 hours, until doubled in size.
Preheat the oven to 350°F (180°C).
Scoop 1 tablespoon of the shell topping onto a piece of wax paper and roll into a ball. Place another piece of wax paper on top and roll out to a 4-inch (10 cm) circle, slightly larger than the risen dough balls. Repeat with the remaining topping so you have 10 circles total.
Gently lay a circle of shell topping over each dough ball, pressing it lightly onto the surface. If the edges of the shell topping are sticking out, gently tuck them down and underneath the dough.
Using a paring knife, slice lines through just the topping layer to create a shell pattern, being careful not to cut into the dough.
Bake the conchas for 25 minutes, rotating halfway through. Let cool for 5–10 minutes before serving.
Enjoy!