Laura's Potato Latkes
Matt's mom, Laura, shows him how to make their family's most cherished recipe: latkes. She teaches him that just 4 simple ingredients can transform into a lacy, crispy and delicious side dish. Her secret is incorporating the leftover potato starch that remains in the bottom of the bowl after grating the potatoes.
December 14, 2020
Total Time
50 minutes
50 min
Prep Time
10 minutes
10 min
Cook Time
30 minutes
30 min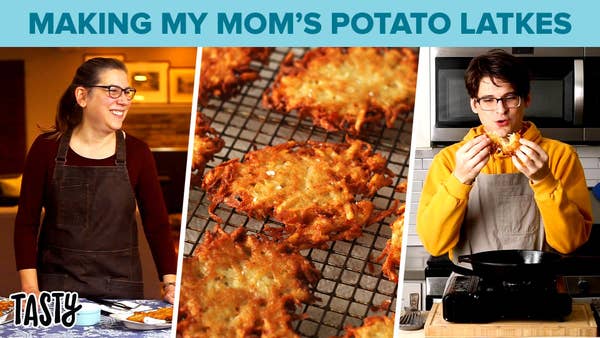 Total Time
50 minutes
50 min
Prep Time
10 minutes
10 min
Cook Time
30 minutes
30 min
Ingredients
for 1 Serving
3 large russet potatoes
½ medium yellow onion
2 large eggs
kosher salt, to taste
freshly ground black pepper, to taste
1 tablespoon matzo ball mix, or more as needed
1 cup vegetable oil

(240 mL)

, plus more as needed
applesauce, for serving
sour cream, for serving
Preparation
Peel the potatoes, adding them to a large bowl filled with water as you work to prevent browning.
Dry the potatoes, then shred on the large holes of a box grater into a large. Shred the onion into the same bowl on the small holes of the box grater.
Transfer the potato mixture to a nut milk bag or a clean kitchen towel and squeeze tightly over the bowl to wring out any excess liquid. Set the liquid aside to let the starch settle to the bottom of the bowl, then carefully pour off the liquid on top, leaving the potato starch in the bottom of the bowl.
In a clean large bowl, combine the shredded potatoes and onions, potato starch, 1 egg, salt, and pepper and gently mix to combine. If the mixture seems too dry and crumbly, add another egg. Add 1 tablespoon matzo ball mix and stir to incorporate, adding up to 1 tablespoon more matzo ball mix if the mixture isn't holding together.
Pour the oil into a large pan to reach a depth of ¼ inch. Heat over medium heat. Using a 2-tablespoon cookie scoop, add the potato mixture to the pan, gently pressing down to the desired thickness. Add another scoop or two of the potato mixture, being careful not to overcrowd the pan. Cook for 3–4 minutes until the edges begin to crisp and the bottom is golden brown. Carefully flip the latkes and cook for another 3–4 minutes, until golden brown on the other side. Transfer to a wire rack and season with salt. Repeat with the remaining latkes.
Serve with applesauce and sour cream.
Enjoy!
Cook smarter, not harder. Use our AI chef Botatouille on the Tasty app. Download now.