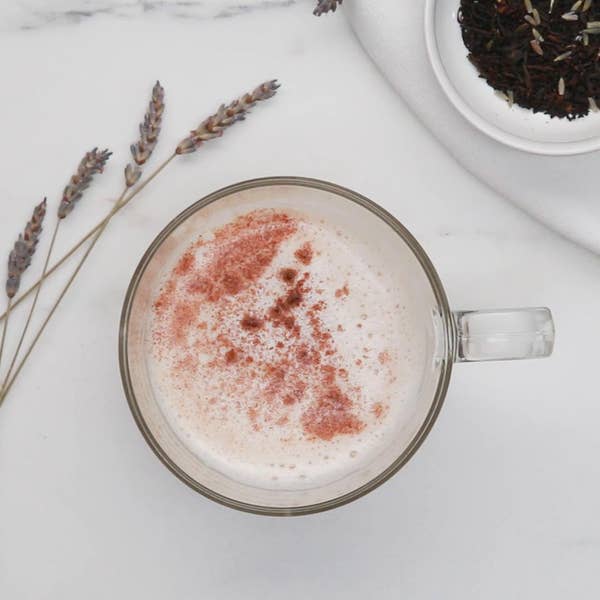 Ingredients
for 1 serving
2 tablespoons earl grey tea
¼ teaspoon culinary lavender
½ cup hot water

(120 mL)

¾ cup milk

(180 mL)

¼ teaspoon vanilla extract
½ tablespoon agave nectar, optional
ground cinnamon, for disting
Nutrition Info
Calories

121

Fat

3g

Carbs

16g

Fiber

0g

Sugar

15g

Protein

5g
Estimated values based on one serving size.
Preparation
Steep the tea and lavender in the hot water for 7 minutes.
Froth the milk by adding it to a resealable jar. Shake vigorously until many bubbles form. Then, microwave the milk for 45 seconds to 1 minute, which will help create stable bubbles.
Remove the tea, then stir in the frothed milk, vanilla, and agave.
Dust with a bit of cinnamon, if desired.
Enjoy!
Nutrition, per serving - Calories: 93, Total fat: 2 grams, Sodium: 69 mg, Total carb: 14 grams, Dietary fiber: 0 gram, Sugars: 6 grams, Protein: 4 grams
Ingredients
for 1 serving
2 tablespoons earl grey tea
¼ teaspoon culinary lavender
½ cup hot water

(120 mL)

¾ cup milk

(180 mL)

¼ teaspoon vanilla extract
½ tablespoon agave nectar, optional
ground cinnamon, for disting
Nutrition Info
Calories

121

Fat

3g

Carbs

16g

Fiber

0g

Sugar

15g

Protein

5g
Estimated values based on one serving size.
Preparation
Steep the tea and lavender in the hot water for 7 minutes.
Froth the milk by adding it to a resealable jar. Shake vigorously until many bubbles form. Then, microwave the milk for 45 seconds to 1 minute, which will help create stable bubbles.
Remove the tea, then stir in the frothed milk, vanilla, and agave.
Dust with a bit of cinnamon, if desired.
Enjoy!
Nutrition, per serving - Calories: 93, Total fat: 2 grams, Sodium: 69 mg, Total carb: 14 grams, Dietary fiber: 0 gram, Sugars: 6 grams, Protein: 4 grams