Mini Apple Pies
Katie attempts to make classic apple pie, but miniaturized! These little pies are packed with flavor and are perfect for sharing. Add them to a bowl and pour milk over, or serve them on a platter as tiny desserts!
August 14, 2023
Total Time
2 hr 10 min
2 hr 10 min
Prep Time
15 minutes
15 min
Cook Time
1 hr 5 min
1 hr 5 min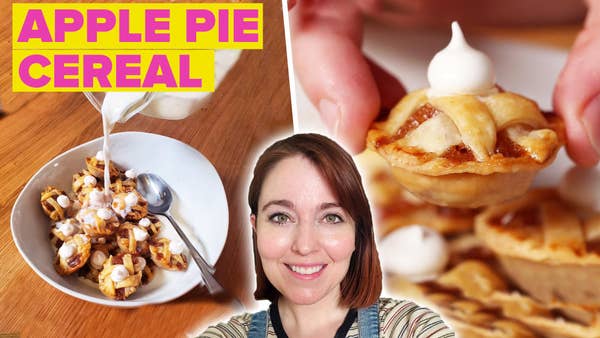 Total Time
2 hr 10 min
2 hr 10 min
Prep Time
15 minutes
15 min
Cook Time
1 hr 5 min
1 hr 5 min
Ingredients
for 20 pies
Filling
3 tablespoons unsalted butter
1 honeycrisp apple, peeled, cored, and finely diced
¼ cup granulated sugar

(25 g)

1 teaspoon cinnamon
½ teaspoon ground nutmeg
1 pinch kosher salt
½ cup water

(120 mL)

1 tablespoon cornstarch
Crust
2 pre-made pie doughs
all purpose flour, for dusting
vegetable oil spray, for greasing
1 large egg, beaten
Meringue
2 large egg whites
¼ teaspoon cream of tartar
1 pinch kosher salt
½ cup sugar

(100 g)

vanilla frosting, for assembly
whole milk, for serving - optional
Nutrition Info
Calories

267

Fat

17g

Carbs

24g

Fiber

1g

Sugar

7g

Protein

4g
Estimated values based on one serving size.
Preparation
Make the filling: Melt the butter in a medium saucepan over medium heat. Add the apple and cook for 2–3 minutes, until tender. Add the sugar, cinnamon, nutmeg, and salt and stir to coat.
In a liquid measuring cup or small bowl, stir together water and cornstarch, then add to the apple mixture. Cook until the filling has thickened, 2–4 minutes. Remove the pot from the heat and let cool.
Preheat the oven to 450°F (230°C).
Prepare the crust: Lightly dust the pie dough with flour, then roll out to ⅛-inch thick. Use a 3-inch round cutter to cut out 40 circles. Chill 20 circles in the refrigerator until ready to use.
Arrange the mini jar lids on a baking sheet and spray with vegetable oil. Gently press a dough circle into each lid, letting any excess dough hang over the sides.
Add 1 teaspoon of filling into each pie shell.
Remove the remaining dough circles from the refrigerator and cut into ¹⁄₁₆-inch strips. Crisscross the 4 longest strips from each circle on top of the filling to make lattices. Use a fork to press around the edges of the mini pies to seal the dough together, then use scissors to trim off any excess dough. Brush the tops of the pies with beaten egg.
Bake the mini pies for 15–20 minutes, or until golden brown. Remove from the oven and let cool.
Reduce the oven temperature to 200 (95°C). Line a baking sheet with a nonstick mat or parchment paper.
Make the meringue: In the bowl of a stand mixer fitted with the whisk attachment (or in a large bowl with an electric hand mixer) beat the egg whites, cream of tartar, and salt on high speed until foamy and soft peaks form, 1–2 minutes. Gradually add the sugar and continue beating on high speed until the meringue is glossy and forms stiff peaks, 1–2 more minutes. Transfer the meringue to a piping bag or zip-top bag with a corner snipped off.
Pipe the meringue into tiny dollops on the prepared baking sheet.
Bake for 40–60 minutes, or until meringues are dried all the way through and easy to lift from the baking sheet.
Remove the pies from the jar lids. Pipe a tiny bit of vanilla frosting onto the center of each pie, then stick a meringue dollop on top.
Serve the mini pies in a bowl with whole milk, or arrange on a platter to share.
Enjoy!
Meal planning made easy with the Tasty app. Download now to see exclusive curated meal plans.