Pork And Chicken Hallacas
Have you ever received an delicious Christmas or New Year's Eve present wrapped in plantain leaves? These hallacas caraqueñas are a traditionally served on Christmas and New Year's Eve in Venezuela 🇻🇪 Variations of this dish are also popular in Colombia 🇨🇴, Ecuador 🇪🇨, Cuba 🇨🇺 and the ABC islands—Aruba 🇦🇼, Bonaire 🇧🇶 and Curaçao 🇨🇼.
December 23, 2019
Total Time
5 hr 30 min
5 hr 30 min
Prep Time
35 minutes
35 min
Cook Time
4 hr 55 min
4 hr 55 min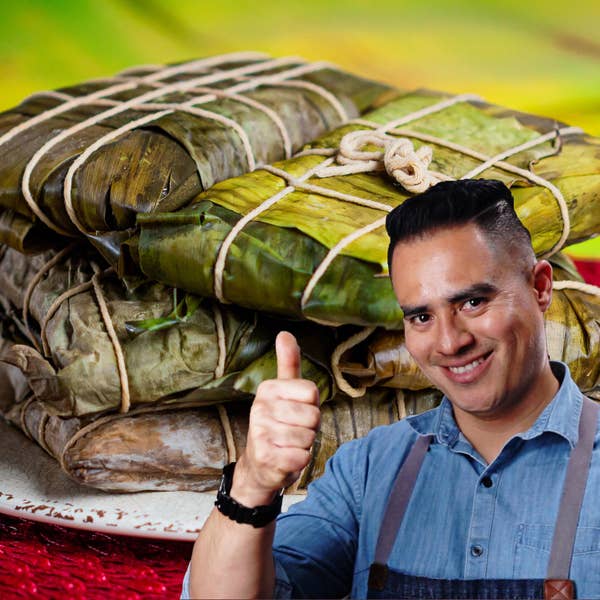 Total Time
5 hr 30 min
5 hr 30 min
Prep Time
35 minutes
35 min
Cook Time
4 hr 55 min
4 hr 55 min
Ingredients
for 10 servings
Stew
2 cups yellow onion

(300 g)

, chopped
½ cup scallions

(50 g)

, chopped
1 cup red bell pepper

(100 g)

, chopped
1 cup leek

(85 g)

, chopped
6 small sweet red peppers, stemmed and seeded
6 tablespoons lard
3 lb pork shoulder

(1.25 kg)

, diced into 1/2 in cubes
1 can chopped tomato, 28 ounce (795 G)
¼ cup worcestershire sauce

(60 mL)

½ cup marsala cooking wine

(120 mL)

1 piloncillo
1 teaspoon kosher salt
½ teaspoon freshly ground black pepper
1 teaspoon ground cumin
2 tablespoons tomato paste
2 packets unflavored gelatin
Dough
½ cup lard

(125 g)

1 ½ tablespoons annatto seeds
½ cup roasted red pepper

(50 g)

2 cups pre-cooked corn flour

(250 g)

, PAN FLOUR
¾ cup chicken stock

(180 mL)

1 teaspoon fine sea salt
Assembly
¼ cup italian giardiniera

(25 g)

, chopped
2 tablespoons dijon mustard
1 cup shredded chicken

(125 g)

40 manzanilla olives
½ cup raisin

(75 g)

½ cup golden raisin

(75 g)

½ cup slivered almonds

(120 g)
Special Equipment
10 banana leaves, thawed if frozen
kitchen twine
Preparation
Make the stew: In a food processor, combine the onion, scallions, red bell pepper, leeks, and sweet red peppers. Pulse until broken down to the consistency of a tapenade.
In a large pot over medium heat, add the lard and pulsed vegetables. Stir to combine and cook for 1-2 minutes, until softened slightly.
Add the pork shoulder, canned tomatoes, and Worcestershire sauce and bring to a simmer before adding the marsala, piloncillo, salt, pepper, cumin, tomato paste, and gelatin. Cook for about 4 hours, stirring frequently, until the meat is completely cooked and shreds easily. Remove the pot from the heat, allow to cool and refrigerate the stew overnight.
Make the dough: In a small pot, cook the lard and annatto seeds over high heat until starting to boil. Remove the pot from the heat and let cool. Strain the lard into a bowl and discard the annatto seeds. Set aside 2 tablespoons of the annatto-infused lard for assembly.
Add the roasted red peppers to a small food processor and process until liquified.
Transfer the puréed peppers to the bowl of a stand mixer fitted with the whisk attachment, along with the corn flour and chicken stock. Mix on medium-low speed until the dough starts to come together.
Gradually add the annatto-infused lard and continue kneading. Add the salt and continue kneading until the dough is firm despite its softness, does not stick to your hands, and has a smooth and shiny appearance when rolled into a ball.
Roll the dough into 10 balls, each about 2 inches (5 cm) in diameter (the size of a lemon).
Assemble the hallacas: In a small bowl, mix together the giardiniera and Dijon mustard.
Clean the banana leaves with a damp kitchen towel and remove the vein at the bottom of the leaf, then cut them into 10 sheets about 12 x 14 inches (30 x 35 cm), 10 middle wrapping sheets, about 12 x 10 inches (25 x 30 cm), and 10 small sheets or "belts", about 4 x 10 inches (10 x 25 cm).
Toast the leaves on a flat skillet over low heat until they have darkened in color and the leaf is flexible, about 30 seconds.
Brush the center of a 10 x 12-inch (25 x 30 cm) banana leaf with a bit of the reserved annatto-infused lard. Place a ball of dough on the center of the leaf and use a cutting board wrapped in plastic wrap and brushed with more annatto lard to press flat. Place a heaping spoonful of stew in the center. Top with some shredded chicken, 4 olives, a small handful of raisins, golden raisins, and slivered almonds, and 1 teaspoon of the giardiniera-mustard mixture.
Carefully fold the hallaca by bringing 2 sides of the leaf together, then folding the sides downward together. Fold in the 2 remaining sides, then turn the hallaca seam-side down.
Place the hallaca, folds down, on the top edge of a 12 x 14-inch (30 x 35 cm) banana leaf, then roll down the length of the leaf. Fold in the sides to seal.
Place the hallaca, seam-side down, on the short end of a 4 x 10-inch (10 x 25 cm) leaf. Wrap the "belt" around the hallaca, then tie with twine to secure. Repeat with the remaining ingredients.
Bring a very large pot of water to a boil over high heat.
Once the water is boiling, add the hallacas. Reduce the heat to medium, cover, and cook for 50–60 minutes until the banana leaves are muted in color and the filling is fully warmed through.
Remove the hallacas from the pot and place them on a wire rack set over a baking sheet. Let cool slightly before serving.
The hallacas will keep in the refrigerator for up to 1 month. If serving at a later time, warm the hallacas in boiling water for 15 minutes.
Enjoy!
Busy? Plan your meals for the week using our exclusive meal planner tool in the Tasty app. Download now and get organized.