Potato Gnocchi With Quick Tomato Sauce
Once you get the hang of it, gnocchi is one of the easiest pastas to make from scratch at home. We paired it with a quick fresh tomato sauce that uses good quality olive oil to add richness and flavor. Experiment by adding fresh or dried herbs, Parmesan cheese, or even a protein to your sauce for a custom creation.
June 25, 2020
Total Time
1 hr 5 min
1 hr 5 min
Prep Time
10 minutes
10 min
Cook Time
55 minutes
55 min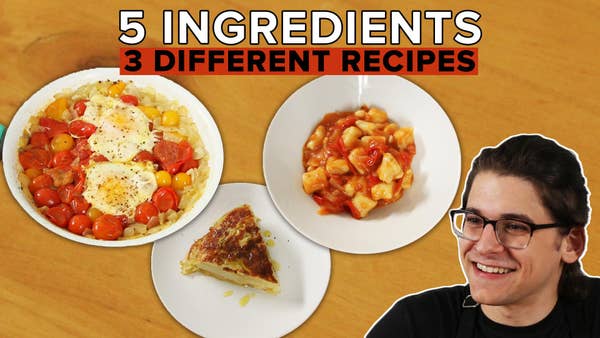 Total Time
1 hr 5 min
1 hr 5 min
Prep Time
10 minutes
10 min
Cook Time
55 minutes
55 min
Ingredients
for 2 servings
kosher salt, to taste
1 lb russet potato

(455 g)

4 tablespoons olive oil, divided
½ medium yellow onion, diced
10 oz cherry tomato

(285 g)

¼ cup water

(60 mL)

1 large egg
½ cup all purpose flour

(60 g)

, plus more for dusting
Nutrition Info
Calories

669

Fat

31g

Carbs

85g

Fiber

7g

Sugar

9g

Protein

14g
Estimated values based on one serving size.
Preparation
Add the potatoes to a large pot of salted boiling water and cook for 20–25 minutes, or until easily pierced with a fork. Drain and set aside until cool enough to handle, but still warm.
While the potatoes are cooking, make the tomato sauce: Heat 2 tablespoons of olive oil in a large, high-walled skillet over medium heat. Add the onion, season with salt and sauté until soft, 5–7 minutes. Add the tomatoes, season with salt, and cook until they start to burst, about 5 minutes. Add the water and remaining 2 tablespoons of olive oil. Cover and cook until the tomatoes have broken down into a sauce, about 15 minutes. Remove from the heat and cover until ready to serve.
Using a peeler or your fingers, remove the skin from the potatoes. Pass the potato flesh through a ricer or food mill into a large bowl. Add the egg and mix until just combined. Slowly incorporate the flour, a little at a time, until the dough starts to form. Be careful not to overwork the dough. If the dough still feels sticky, add a little more flour, 2 tablespoons at a time.
Transfer dough to a lightly floured surface. Cut into 4 portions. Roll out 1 portion into a long rope, about 1 inch wide. Cut in half crosswise, then cut each half into 1-inch pieces. Set aside on a lightly floured surface while you repeat with the remaining dough.
If desired, roll each gnocchi on a fork or gnocchi board to make decorative ridges.
Bring a large pot of salted water to a boil. Working in batches, add the gnocchi, stirring gently once or twice to ensure they are not sticking to the bottom of the pot or each other. Boil until the gnocchi float to the surface, then wait another 15–30 seconds and remove from the water with a slotted spoon. Reserve ½ cup of the cooking water.
Reheat the tomato sauce over medium heat. Add some of the reserved pasta water and stir to combine. Check for seasoning and add salt if needed. Add the gnocchi to the sauce and toss until well coated, adding more pasta water as needed to create a thick sauce.
Serve immediately and enjoy!
Cook smarter, not harder. Use our AI chef Botatouille on the Tasty app. Download now.