Pumpkin-Shaped Potato Gnocchi For Fall
Carve out some time to make these adorable potato pumpkin gnocchi with rosemary stems.
November 02, 2023
Prep Time
1 hr 30 min
1 hr 30 min
Cook Time
30 minutes
30 min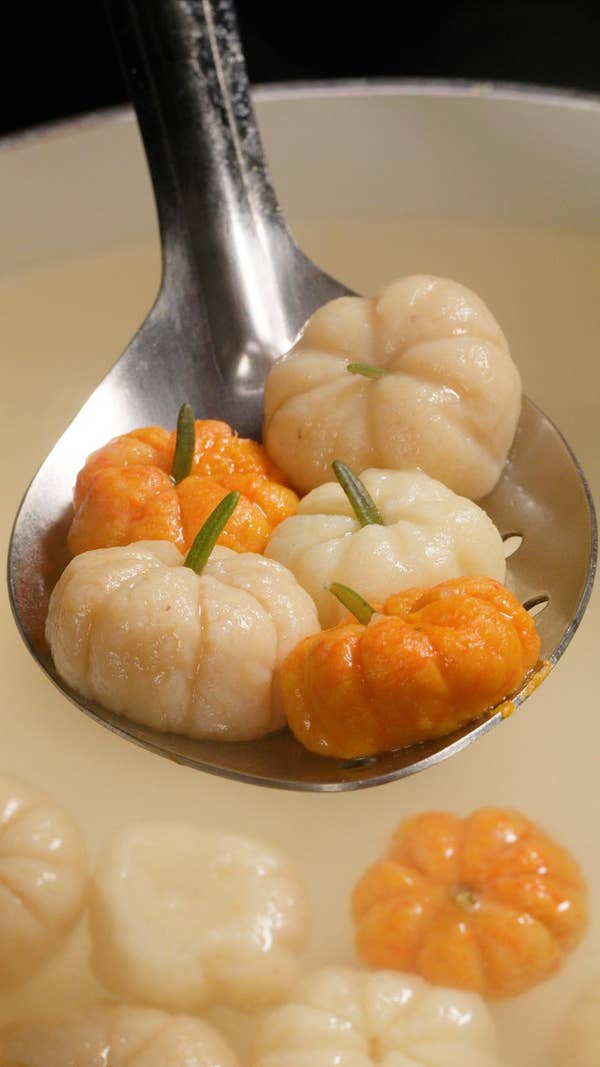 Prep Time
1 hr 30 min
1 hr 30 min
Cook Time
30 minutes
30 min
Ingredients
for 4 servings
1 teaspoon kosher salt, plus more for baking potatoes
1 lb Idaho® russet potatoes
4 oz 00 flour, plus more for dusting
¼ cup sweet potato yam powder
1 pinch freshly grated nutmeg
¼ cup grated parmesan cheese
1 large egg, beaten
fresh rosemary leaf, for decorating
sauce of choice, for serving
Nutrition Info
Calories

235

Fat

2g

Carbs

44g

Fiber

15g

Sugar

1g

Protein

7g
Estimated values based on one serving size.
Preparation
Preheat the oven to 350°F (180°C).
Cover a rimmed baking sheet with a 1-inch layer of kosher salt. Place the potatoes on the salt and bake until fork tender, 1½–2 hours. Remove the potatoes from the pan and cut in half lengthwise. Deeply score the flesh in a criss-cross pattern, then place the halves on a wire rack and allow to cool slightly, about 10 minutes.
In a medium bowl, whisk together the flour, yam powder, and 1 teaspoon of salt.
Squeeze the potato flesh from the skins, then pass through a fine ricer or sieve and spread on a clean work surface. Sprinkle with the nutmeg and Parmesan, then drizzle the beaten egg over the potato flesh and use a bench scraper to incorporate.
Sprinkle a third of the flour mixture at a time over the potatoes and work into a dough by cutting and folding with the bench scraper, but not kneading. Continue adding more of the flour mixture until the dough is fairly dry and no longer sticky, and a small piece can be rolled easily into a ball.
Dust a clean surface lightly with flour.
Divide the dough into 4 equal portions. Roll each portion into a long rope, then cut the ropes into ½-inch pieces. Roll each piece into a ball and set on the floured surface.
Bring a large pot of salted water to a boil over high heat.
Using a kitchen twine, create pumpkin markings around each dough ball, then very gently press down on the tops to make the balls a bit more squat in shape. Use a toothpick as needed to define the pumpkin markings. Insert a rosemary leaf into the top of each gnocchi to look like a pumpkin stem.
Once all of the gnocchi are shaped and the water is boiling, carefully slide them into the water. Boil the gnocchi until they begin to float, then let cook for another minute or two before removing from the water with a slotted spoon or spider.
Serve the gnocchi with your sauce of choice.
Enjoy!
Meal planning made easy with the Tasty app. Download now to see exclusive curated meal plans.