Stuffed Hash Brown Pockets
These stuffed hash brown pockets are a savory breakfast treat that's perfect for on-the-go mornings. The crispy hash brown shell is stuffed with fluffy scrambled eggs, melted cheese, and savory sausage, making it a breakfast favorite that's easy to make and even easier to eat.
May 04, 2023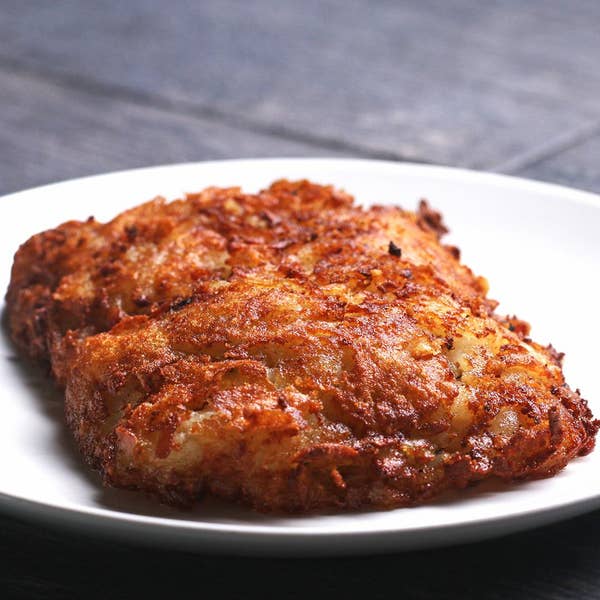 Ingredients
for 8 servings
Hash Browns
4 lb russet potato

(1.8 kg)

, washed and peeled
1 tablespoon salt, plue 1 teaspoon, divided
½ cup all-purpose flour

(60 g)

1 cup shredded parmesan cheese

(100 g)

1 tablespoon onion powder
1 tablespoon garlic powder
1 teaspoon black pepper
Sausage Filling
1 medium white onion, chopped
1 yellow bell pepper, chopped
1 red bell pepper, chopped
1 green bell pepper, chopped
2 cloves garlic, minced
1 lb ground sausage

(455 g)

2 teaspoons paprika
½ teaspoon cayenne pepper
½ teaspoon black pepper
1 teaspoon dried thyme
1 teaspoon salt
Egg Filling
1 tablespoon olive oil
5 oz fresh spinach

(140 g)

6 large eggs
8 strips bacon, cooked, chopped
½ teaspoon pepper
1 teaspoon salt
4 tablespoons shredded cheddar cheese
3 qt oil

(2.8 L)

, for frying
Preparation
Add the potatoes to a large pot. Cover the potatoes with cold water and season with 1 tablespoon of salt. Bring to a boil over high heat and cook until the potatoes are fork tender, about 20 minutes.
Make the sausage filling: Add the onion to a large skillet over medium heat and cook until translucent, about 3 minutes.
Add the peppers and cook until slightly tender, about 6 minutes.
Add the garlic and sausage. Cook until the sausage is browned, about 4 minutes.
Season with the paprika, cayenne, pepper, thyme, and salt and cook for another 5 minutes until seasoning is evenly distributed. Remove the pan from the heat.
Make the egg filling: Heat the olive oil in a large skillet over medium heat, then sauté the spinach until fully wilted, about 5 minutes.
Add the eggs and scramble until cooked, about 3 minutes.
Add the bacon, pepper, and salt and mix to incorporate. Remove the pan from the heat.
Transfer the potatoes to a colander and run under cold water to cool. Pat dry.
Using the large holes on a cheese grater, shred the potatoes into a large bowl.
Add the flour, Parmesan, onion powder, garlic powder, pepper, and salt. Mix together thoroughly.
Transfer half of the hash brown mixture to a greased 13" x 18" (33 cm x 45 cm) baking sheet and spread evenly with a spatula.
On the left side of the tray, spoon the egg filling into 4 evenly spaced piles. On the right side of the tray, spoon the sausage filling into 4 evenly spaced piles. Top each pile of egg filling with a tablespoon of shredded cheddar cheese.
Top the piles of filling with the remaining hash brown mixture and use a spatula to carefully press down the hash browns, sealing the filling inside. Use the tip of the spatula to delineate between each pocket of filling.
Freeze for at least 2 hours.
In a large pot, heat oil until it reaches 380˚F (195˚C).
Remove the hash browns from the freezer and use a sharp knife to cut and separate each pocket.
Fry the hash brown pockets in batches for 5-7 minutes, or until browned on both sides. Drain the pockets on a wire rack set over a baking sheet lined with paper towels.
Enjoy!
Your favorite recipes are just a click away. Download the Tasty app to save and organize your favorites.