Vanilla Crispy Treats With Leftover Halloween Candy
No tricks here, only treats! Natalie and Laura Potter of @BlissAndBaker show you a sweet way to upgrade rice crispy treats that might just put you in a Halloween candy coma. We say, "bring it on!"
September 22, 2019
Total Time
1 hr 15 min
1 hr 15 min
Cook Time
10 minutes
10 min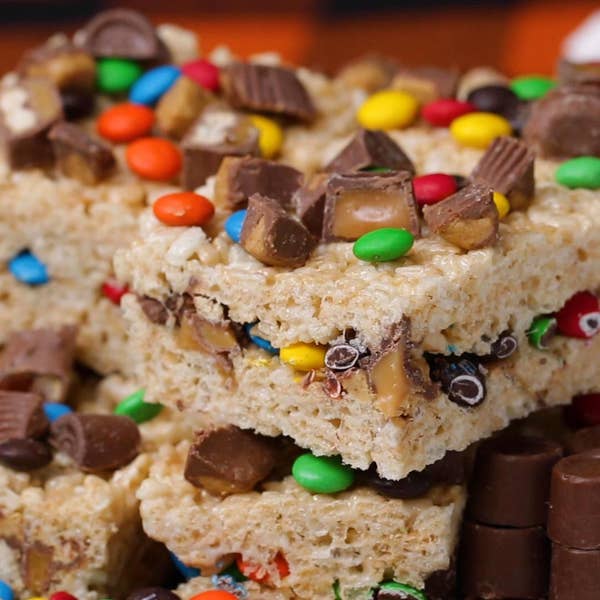 Total Time
1 hr 15 min
1 hr 15 min
Cook Time
10 minutes
10 min
Ingredients
for 9 servings
1 tablespoon granulated sugar
2 ½ cups chocolate candy

(435 g)

, divided
6 tablespoons salted butter, 3/4 stick
10 cups mini marshmallows

(500 g)

1 teaspoon vanilla extract
7 cups rice cereal

(210 g)
Preparation
Line a 9-inch (22 cm) square pan with 2 sheets of parchment paper and sprinkle the sugar over the bottom of the pan.
Chop the chocolate candy into small pieces, then transfer to the freezer while you prepare the crispy treat mixture.
In a large nonstick pot, melt the butter over medium-low heat. Reduce the heat to low, then add the marshmallows and stir until completely melted. Add the vanilla and stir to incorporate.
Stir in the rice cereal. Remove from heat. Let cool slightly.
Transfer half of the mixture to the prepared pan and press into an even layer. Add 2 cups (350 g) of the candy in an even layer, then top with the remaining rice cereal mixture and spread in an even layer. Top with the remaining candy.
Let set at room temperature for 2 hours, or in the refrigerator for 1 hour. Cut into 9 bars, then serve.
Enjoy!
Busy? Plan your meals for the week using our exclusive meal planner tool in the Tasty app. Download now and get organized.