Breakfast Tater Tot Poutine
Poutine for breakfast? Why not.
April 04, 2021
Total Time
45 minutes
45 min
Cook Time
40 minutes
40 min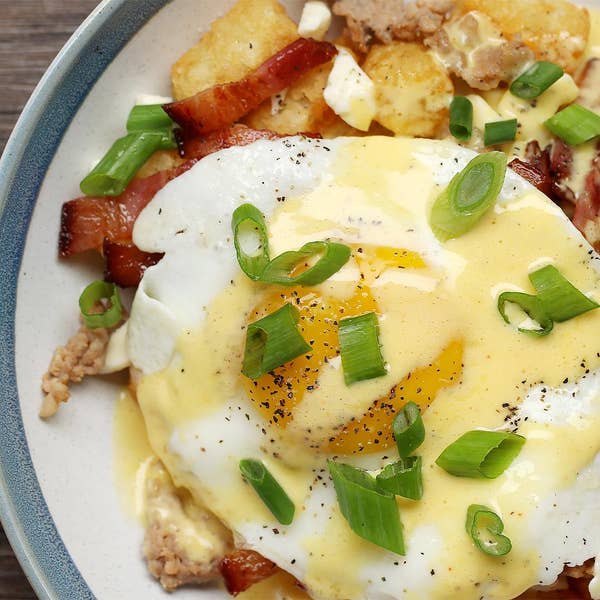 Total Time
45 minutes
45 min
Cook Time
40 minutes
40 min
Ingredients
for 3 servings
Hollandaise Sauce
6 egg yolks
1 cup salted butter, melted
1 tablespoon fresh lemon juice
¼ teaspoon salt
cayenne pepper, pinch
1 tablespoon hot water
Poutine
7 cups cooked tater tots
4 sausages, mild or hot Itallian
6 bacons, strips
2 cups cheese curds
¼ cup green onion, finely chopped
3 eggs, sunny-side or poached
salt and pepper, to taste
Preparation
In a high-speed blender jug, add egg yolks, freshly squeezed lemon juice, salt, and cayenne pepper.
Melt butter in a microwave or on stove top, until completely melted and very hot to the touch.
Using high speed, blend the yolk mixture for 3-4 seconds, then gradually in a thin stream pour the hot melted butter into the blender jug, while it is still running on high speed. Check for desired consistency and taste, adding more salt, cayenne pepper as needed. The sauce will begin to thicken as the hot liquid begins to emulsify with the yolk mixture.
Start by making a base with the tater tots, then layer on the shredded cheddar cheese, crumbled Italian sausage, crumbled bacon, sunny-side up or poached egg. Season with salt and pepper to your desired preference, then top with hollandaise sauce and a garnish of green onion.
Serve while hot and enjoy.