Chai-Spiced Plum Polenta Cake
June 10, 2019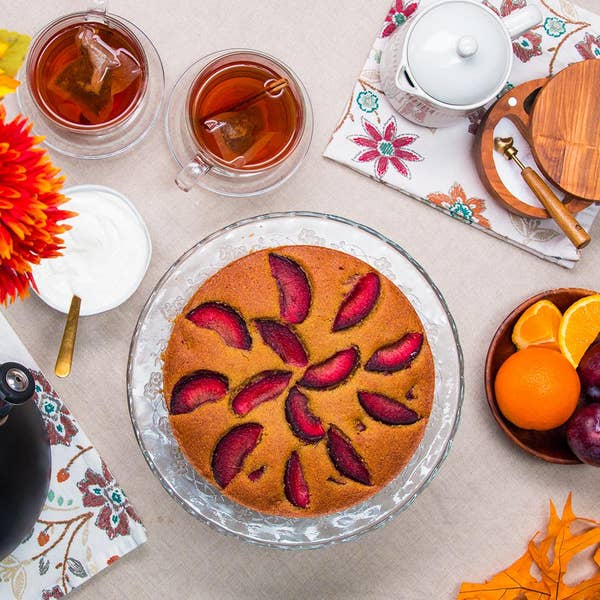 Ingredients
for 8 servings
Cake
1 ½ cups finely ground polenta

(145 g)

1 ½ cups finely ground almond flour

(145 g)

1 teaspoon baking powder
½ teaspoon baking soda
1 pinch kosher salt
1 large orange, washed
4 large eggs, beaten
1 cup olive oil

(240 mL)

, plus more for greasing
½ cup maple syrup

(170 g)

, plus 2 tablespoons
1 teaspoon vanilla extract
1 teaspoon ground cardamom
1 teaspoon cinnamon
½ teaspoon nutmeg
½ teaspoon ground cloves
2 plums, pitted and diced, plus 1, sliced into 1/2 inch (1 cm) wedges, divided
whipped cream, for serving
orange zest, for serving
Nutrition Info
Calories

458

Fat

38g

Carbs

23g

Fiber

3g

Sugar

13g

Protein

8g
Estimated values based on one serving size.
Preparation
Preheat the oven to 350°F (180˚C). Grease a 9-inch (23-cm) round cake pan with olive oil, using a paper towel to spread evenly.
In a large bowl, combine the polenta, almond flour, baking powder, baking soda, and salt. Stir well.
Zest and juice the orange.
Add the orange zest and juice to a separate large bowl with the eggs, olive oil, maple syrup, vanilla, cardamom, cinnamon, nutmeg, and cloves. Whisk well to combine.
Add the dry ingredients to the wet ingredients and gently fold with a rubber spatula until fully incorporated.
Fold in the diced plums.
Pour the batter into the prepared pan.
Arrange the sliced plum decoratively on top of the cake in a circular pattern.
Bake the cake for 50-55 minutes, until a toothpick inserted in the center comes out clean.
Let cool for 20 minutes, then remove from the cake pan.
Slice and serve with whipped cream and more orange zest, if desired.
Enjoy!
Nutrition per serving, Not including whipped cream - Calories: 519, Total fat: 42 grams, Sodium: 334 mg, Total carbs: 30 grams, Dietary Fiber: 4 grams, Sugars: 19 grams, Protein: 9 grams
Ingredients
for 8 servings
Cake
1 ½ cups finely ground polenta

(145 g)

1 ½ cups finely ground almond flour

(145 g)

1 teaspoon baking powder
½ teaspoon baking soda
1 pinch kosher salt
1 large orange, washed
4 large eggs, beaten
1 cup olive oil

(240 mL)

, plus more for greasing
½ cup maple syrup

(170 g)

, plus 2 tablespoons
1 teaspoon vanilla extract
1 teaspoon ground cardamom
1 teaspoon cinnamon
½ teaspoon nutmeg
½ teaspoon ground cloves
2 plums, pitted and diced, plus 1, sliced into 1/2 inch (1 cm) wedges, divided
whipped cream, for serving
orange zest, for serving
Nutrition Info
Calories

458

Fat

38g

Carbs

23g

Fiber

3g

Sugar

13g

Protein

8g
Estimated values based on one serving size.
Preparation
Preheat the oven to 350°F (180˚C). Grease a 9-inch (23-cm) round cake pan with olive oil, using a paper towel to spread evenly.
In a large bowl, combine the polenta, almond flour, baking powder, baking soda, and salt. Stir well.
Zest and juice the orange.
Add the orange zest and juice to a separate large bowl with the eggs, olive oil, maple syrup, vanilla, cardamom, cinnamon, nutmeg, and cloves. Whisk well to combine.
Add the dry ingredients to the wet ingredients and gently fold with a rubber spatula until fully incorporated.
Fold in the diced plums.
Pour the batter into the prepared pan.
Arrange the sliced plum decoratively on top of the cake in a circular pattern.
Bake the cake for 50-55 minutes, until a toothpick inserted in the center comes out clean.
Let cool for 20 minutes, then remove from the cake pan.
Slice and serve with whipped cream and more orange zest, if desired.
Enjoy!
Nutrition per serving, Not including whipped cream - Calories: 519, Total fat: 42 grams, Sodium: 334 mg, Total carbs: 30 grams, Dietary Fiber: 4 grams, Sugars: 19 grams, Protein: 9 grams