90% would make again
Brownie Tiramisu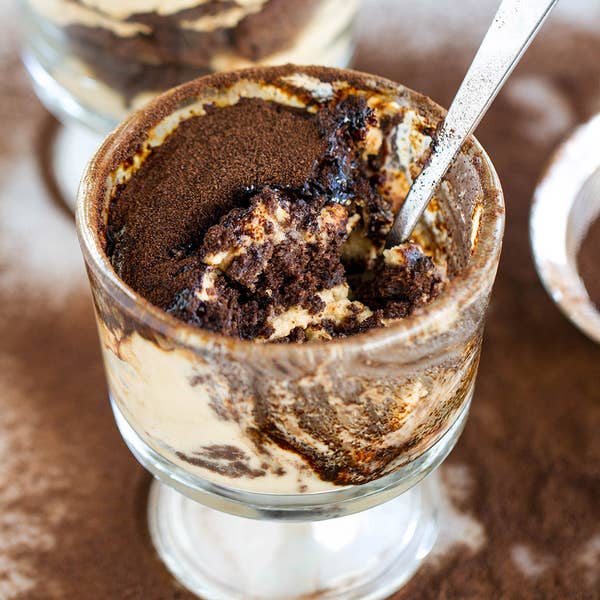 Ingredients
for 4 parfaits
Brownies
1 box brownie mix
⅓ cup espresso

(80 mL)

, or strong coffee
⅓ cup vegetable oil

(80 mL)

1 egg
Filling
1 cup heavy cream

(240 mL)

½ cup powdered sugar

(60 g)

15 oz mascarpone cheese

(450 g)

1 tablespoon espresso powder
1 teaspoon vanilla extract
Preparation
Pre-heat oven to 350ºF (180°C).
Combine brownie mix, egg, vegetable oil, and strong coffee into a large bowl. Mix well.
Pour batter into a parchment lined 10x15-inch (25x38 cm) baking sheet.
Bake for about 10 minutes.
While the brownie is baking and cooling, mix mascarpone cheese, espresso powder, and vanilla extract together in a bowl until smooth.
In a separate bowl, whip the heavy cream and gradually add in powdered sugar.
When the cream is whipped, add to the mascarpone cheese mixture and gently fold until homogenous.
Take the brownie out from the baking sheet put on a flat surface, then use either a mason jar lid or a cookie cutter to cut out as many circles as you can.
To assemble the tiramisu, alternate the cream and brownie, starting with the cream.
Chill tiramisu in the fridge for an hour.
To serve, dust with cocoa powder and/or espresso powder.
Nutrition Calories: 1234 Fat: 128 grams Carbs: 23 grams Fiber: 0 grams Sugars: 21 grams Protein: 8 grams
Enjoy!