Creamy Chicken Instant Ramen
Shop Campbell's® Soup to try this recipe for yourself!
August 14, 2023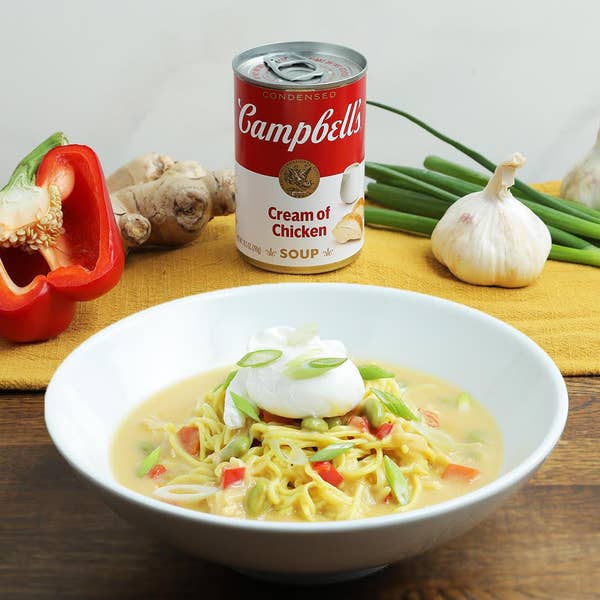 Ingredients
for 1 serving
1 boneless, skinless, chicken breast
2 scallions, whole, plus 1, sliced on the bias, divided
3 ½ cups water

(840 mL)

1 tablespoon olive oil
1 teaspoon grated fresh ginger
1 clove garlic, grated
¼ cup diced carrot

(35 g)

, fresh or frozen
¼ cup edamame

(35 g)

, fresh or frozen
¼ cup red bell pepper

(25 g)

, fresh or frozen
1 can Campbell's® Cream of Chicken Soup
1 tablespoon soy sauce
4 oz ramen noodle

(115 g)

, cooked
1 poached egg
This recipe isn't available to shop.
Unfortunately, not all our recipes can be shopped through Tasty.
Preparation
Add the chicken breast and whole scallions to a medium pot and cover with the water. Bring to a simmer over medium-high heat, then cover and cook, frequently skimming off the white foam that rises to the surface, until the internal temperature of the chicken reaches 165°F (75°C), 8–10 minutes. Remove the chicken and scallions from the poaching liquid and reserve 1½ cups of the liquid. Shred the chicken and discard the scallions and remaining liquid.
Heat the olive oil in a medium pot over medium heat. Add the ginger and garlic, and cook for 1 minute, until fragrant. Add the carrots, edamame, and red bell pepper, and sauté for 3–4 minutes, until the vegetables are starting to become tender.
Stir in the Campbell's® Cream of Chicken Soup and soy sauce, and bring to a simmer. Whisk in the reserved chicken poaching liquid until smooth. Return to a simmer and cook for 3–4 minutes, until the vegetables are tender. Fold in the ramen noodles and shredded chicken.
Carefully transfer the ramen to a bowl and top with the poached egg and sliced scallions.
Enjoy!