Croissant Breakfast Pizza
This croissant crust breakfast pizza absolutely blew me away! It's like a whole breakfast in a single slice and is deceptively easy to make! This deliciously flaky treat is perfect for those Sunday mornings when you're looking for a little indulgence, but don't feel like going out for brunch.
July 29, 2022
Total Time
55 minutes
55 min
Prep Time
10 minutes
10 min
Cook Time
40 minutes
40 min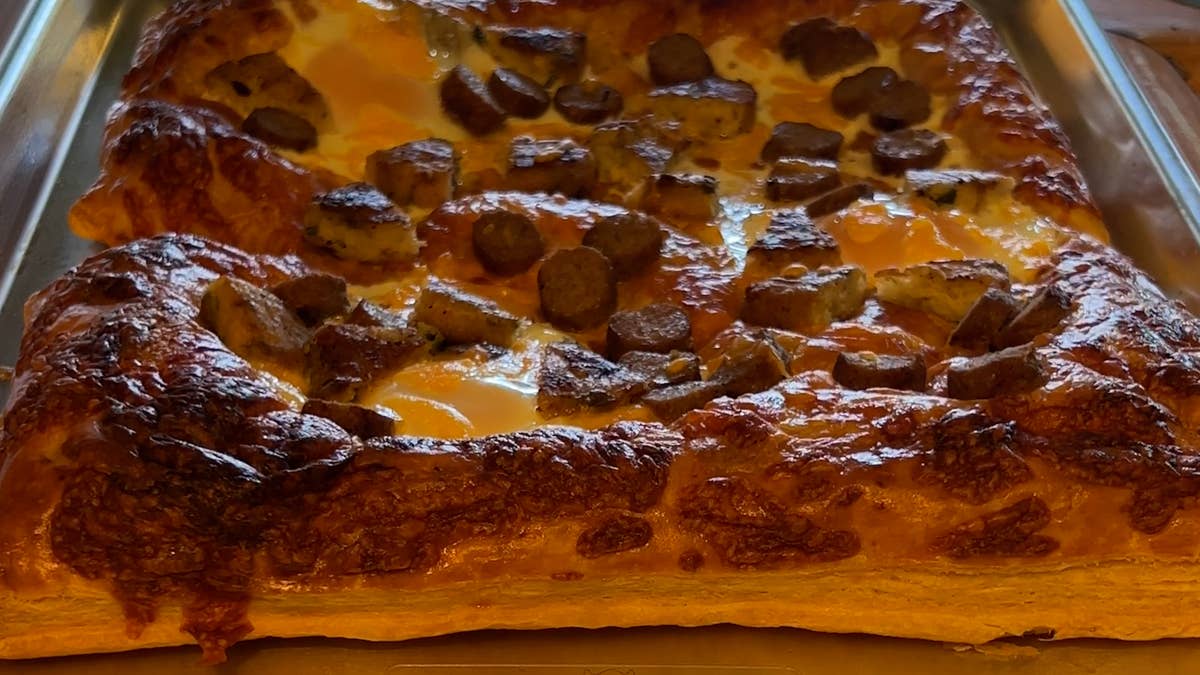 Total Time
55 minutes
55 min
Prep Time
10 minutes
10 min
Cook Time
40 minutes
40 min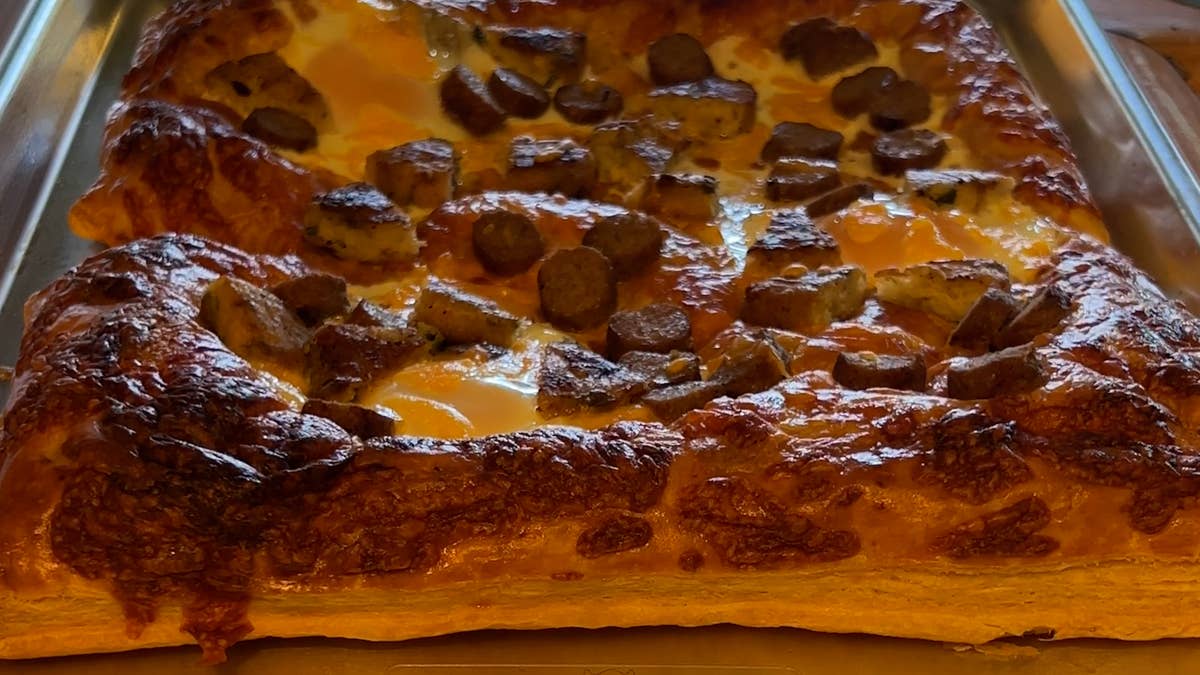 Ingredients
for 6 servings
3 tablespoons unsalted butter
2 tablespoons all-purpose flour
¾ cup whole milk

(180 mL)

⅓ cup heavy cream

(80 mL)

1 teaspoon kosher salt, plus more to taste
½ teaspoon freshly ground black pepper, plus more to taste
nonstick cooking spray, for greasing
8 oz frozen puff pastry, thawed
4 large eggs, divided
1 ¼ cups shredded cheddar cheese

(125 g)

5 turkey sausages, cut into 1/4-inch (6 mm) rounds
1 breakfast hash brown patty, cooked according to package instructions, cut into ½-inch pieces
, or maple syrup, for serving (optional)
Preparation
Preheat the oven to 375°F (190°C).
Make the gravy: In a medium, high-walled skillet, melt the butter over medium heat until bubbling. Whisk in the flour until no lumps remain. Cook for 2–3 minutes, until the roux is a light blond color, bubbling, and fragrant. Slowly pour in the milk and cream, whisking constantly so no lumps form. Bring to a simmer and cook, continuing to whisk, until thickened, 5–7 minutes. Season with the salt and pepper. Transfer the gravy to a heatproof bowl and set aside.
Lightly grease a baking sheet with nonstick spray.
In a small bowl, beat 1 egg.
Place the puff pastry sheet on the prepared baking sheet and poke all over with a fork. Brush the puff pastry with the beaten egg, then evenly spread the gravy across the pastry, leaving a 1-inch border around the edges. Scatter the cheese evenly on top, all the way to the edges.
Bake the pizza for 20 minutes, until the puff pastry is golden brown and puffed and the cheese is melted.
Remove the pizza from the oven and use the back of a ¼-cup measure to press three divots into the pizza, spacing evenly. Crack an egg into each divot and sprinkle with salt and pepper. Scatter the sausage rounds and hash brown pieces over the pizza.
Return the pizza to the oven for 10 minutes, until the eggs are set.
Remove the pizza from the oven and let cool for 5 minutes. Drizzle with Sriracha or maple syrup, if desired, then cut into squares before serving.
Enjoy!