84% would make again
Flower Sushi Roll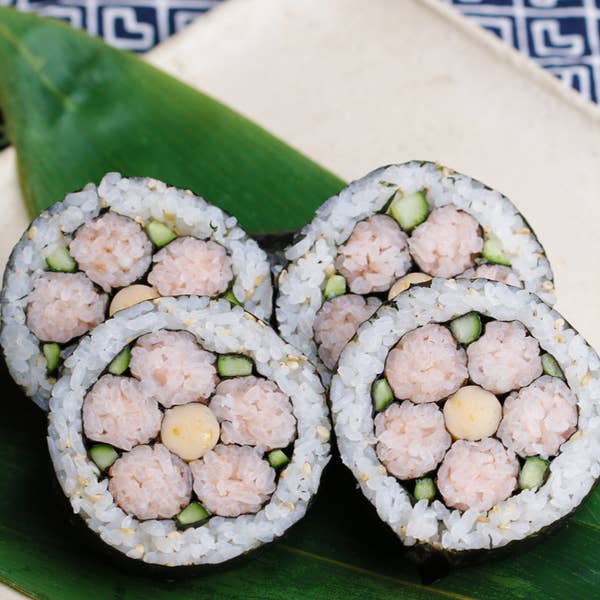 Ingredients
for 1 serving
1 ½ cups cooked sushi rice

(345 g)

½ tablespoon sesame seed
3.5 oz spicy cod roe

(100 g)

2 sheets dried seaweed
⅓ cucumber, julienned
1 cheese-stuffed fish cake
Sushi Vinegar
1 tablespoon vinegar
1 tablespoon sugar
½ teaspoon salt
Preparation
In a medium bowl, add the vinegar, sugar, and salt to the cooked rice, and stir to combine.
Transfer half of the rice to another medium bowl. To one bowl, add the sesame seeds and stir to combine. To the other bowl of rice, add the spicy cod roe, and stir to combine.
Cut one sheet of seaweed into six equal rectangles.
Put one of the cut seaweed sheets on a bamboo mat (makisu). Add two teaspoons of the cod roe rice on the seaweed, and roll into a cylinder. Repeat to make five rolls total.
Transfer the rolls to the bamboo mat, placing the cheese-stuffed fish cake in the center. Use the bamboo mat to roll the rolls into one cylinder. Place pieces of cucumber between the cod roe-filled rolls.
Use the remaining cut seaweed sheet to wrap around the cylinders, bundling them together.
On the large sheet of seaweed, use a spoon to evenly spread the sesame rice. Add the bundled flower roll to the bottom edge of the rice-covered seaweed sheet, and gently roll up.
Cut the sushi into four equal sections.
Enjoy!