Low-Carb Eggplant Parmesan
June 10, 2019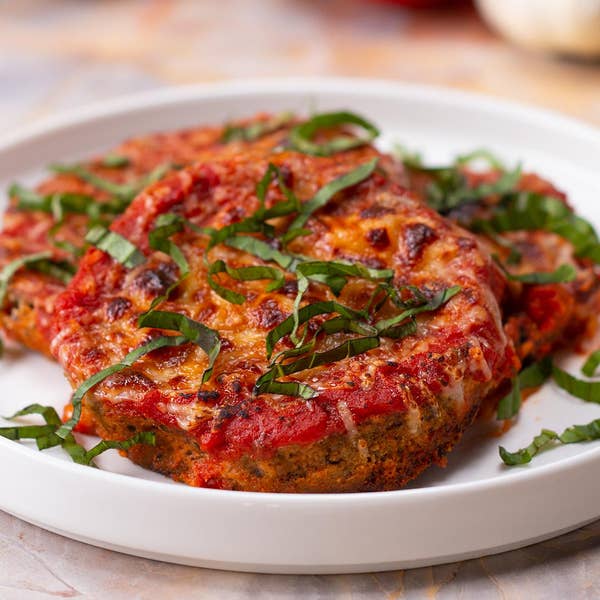 Ingredients
for 4 servings
1 large eggplant
salt, to taste
1 ½ cups almond meal

(145 g)

1 tablespoon italian seasoning
3 large eggs
water, splash
1 cup rice flour

(125 g)

olive oil, to taste
3 cloves garlic, minced
½ teaspoon red pepper flakes
28 oz crushed san marzano tomato

(895 g)

, 1 can
6 large leaves fresh basil, chopped, plus more for garnish
1 ½ cups shredded mozzarella cheese

(150 g)

¾ cup shredded parmesan cheese

(85 g)
Nutrition Info
Calories

752

Fat

42g

Carbs

66g

Fiber

12g

Sugar

15g

Protein

34g
Estimated values based on one serving size.
Preparation
Preheat the oven to 375°F (190˚C).
Trim the ends off the eggplant, then slice into ½-inch (2-cm) thick rounds. Transfer the rounds to a baking sheet lined with paper towels and sprinkle with salt on both sides. Let sit for 10 minutes for the salt to draw out excess moisture from the eggplant.
In a medium bowl, whisk together the almond meal, Italian seasoning, and a pinch of salt. Beat the eggs in another medium bowl with a splash of water. Add the rice flour to another medium bowl.
Coat the salted eggplant rounds in the rice flour, then in the egg, letting any excess drip off, then in the seasoned almond meal. Set the rounds on a baking sheet lined with parchment paper. Lightly drizzle on both sides with olive oil.
Bake the eggplant, flipping halfway through for even browning, for 30 minutes, or until golden brown.
While the eggplant is baking, make the sauce: Heat a drizzle of olive oil in a medium saucepan over medium-low heat. Add the garlic and red pepper flakes and cook for 3-4 minutes, until the garlic is fragrant. Reduce the heat if the garlic is browning too quickly. Add the crushed tomatoes and stir to combine. Cover and simmer for 15 minutes, stirring occasionally to prevent the bottom from scorching. Add the basil and stir to incorporate.
To assemble, spread a bit of sauce in the bottom of a 9x13-inch (23x33-cm) baking dish, then add a layer of baked eggplant. Top with more sauce and sprinkle with the mozzarella and Parmesan cheese. Repeat with the remaining ingredients, using another baking dish if needed to make another single layer of eggplant.
Bake for 10 minutes, then turn the broiler on high and cook for another 3 minutes, until the cheese is browned and bubbling.
Serve garnished with more basil.
Enjoy!
Nutrition, per serving - Calories: 424, Total fat: 21 grams, Sodium: 666 mg, Total carbs: 41 grams, Dietary fiber: 9 grams, Net carbs: 32 grams, Sugars: 12 grams, Protein: 22 grams
Ingredients
for 4 servings
1 large eggplant
salt, to taste
1 ½ cups almond meal

(145 g)

1 tablespoon italian seasoning
3 large eggs
water, splash
1 cup rice flour

(125 g)

olive oil, to taste
3 cloves garlic, minced
½ teaspoon red pepper flakes
28 oz crushed san marzano tomato

(895 g)

, 1 can
6 large leaves fresh basil, chopped, plus more for garnish
1 ½ cups shredded mozzarella cheese

(150 g)

¾ cup shredded parmesan cheese

(85 g)
Nutrition Info
Calories

752

Fat

42g

Carbs

66g

Fiber

12g

Sugar

15g

Protein

34g
Estimated values based on one serving size.
Preparation
Preheat the oven to 375°F (190˚C).
Trim the ends off the eggplant, then slice into ½-inch (2-cm) thick rounds. Transfer the rounds to a baking sheet lined with paper towels and sprinkle with salt on both sides. Let sit for 10 minutes for the salt to draw out excess moisture from the eggplant.
In a medium bowl, whisk together the almond meal, Italian seasoning, and a pinch of salt. Beat the eggs in another medium bowl with a splash of water. Add the rice flour to another medium bowl.
Coat the salted eggplant rounds in the rice flour, then in the egg, letting any excess drip off, then in the seasoned almond meal. Set the rounds on a baking sheet lined with parchment paper. Lightly drizzle on both sides with olive oil.
Bake the eggplant, flipping halfway through for even browning, for 30 minutes, or until golden brown.
While the eggplant is baking, make the sauce: Heat a drizzle of olive oil in a medium saucepan over medium-low heat. Add the garlic and red pepper flakes and cook for 3-4 minutes, until the garlic is fragrant. Reduce the heat if the garlic is browning too quickly. Add the crushed tomatoes and stir to combine. Cover and simmer for 15 minutes, stirring occasionally to prevent the bottom from scorching. Add the basil and stir to incorporate.
To assemble, spread a bit of sauce in the bottom of a 9x13-inch (23x33-cm) baking dish, then add a layer of baked eggplant. Top with more sauce and sprinkle with the mozzarella and Parmesan cheese. Repeat with the remaining ingredients, using another baking dish if needed to make another single layer of eggplant.
Bake for 10 minutes, then turn the broiler on high and cook for another 3 minutes, until the cheese is browned and bubbling.
Serve garnished with more basil.
Enjoy!
Nutrition, per serving - Calories: 424, Total fat: 21 grams, Sodium: 666 mg, Total carbs: 41 grams, Dietary fiber: 9 grams, Net carbs: 32 grams, Sugars: 12 grams, Protein: 22 grams